So,
Chrissy
found this blog,
Seriously So Blessed
, and
recently posted
about it. I found it completely hysterical :-)!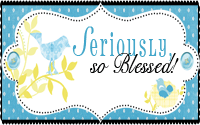 Here
is an artical about the author if you are curious to learn more.
Also, there is a link to this store,
Line upon Line
, on her blog that has THE best cards ever! I really, really want to buy some. They had me cracking up!