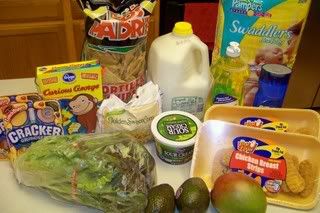 I have been working at saving money on our groceries for quite a few months now and I finally feel like I have mastered some of the techniques my friend from church
Melissa
shares on her awesome blog,
Melissa's Bargain Blog
! I got everything in the picture for $20, which really is amazing if you consider that the diapers and milk alone previously would have cost me almost $15. I am no where near her $40/week grocery budget, but I have cut our weekly costs by $30-40 and that makes a BIG difference each month (and couldn't have come at a better time with this economy and baby #3 on the way). I think the 2 big differences have come from getting items like shampoo and toothpaste for nearly free at CVS (so I no longer buy those at the grocery store) and getting better about planning my menu based on the sale items I buy that week. So, everyone be sure to check out her blog and learn from her wisdom :-)! She does so much of the work for you that you don't have to think too much about matching coupons, etc. It's been a slow learning process for me, but it is really exciting to see how much you are saving! I walk away from the store feeling so proud of myself :-). A link to her bargain blog is under my "Fun Stuff" category if you ever need to find it!