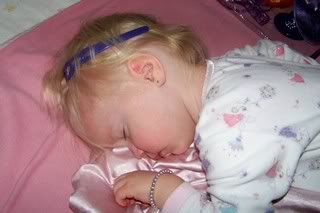 Addie and her headbands :-)...that can't be comfortable! Saturday Ella had a little primary activity and I got as many errands done in that hour that I could!

Sunday morning. I don't know why these turned out blurry, but the girls looked cute and preppy.

I decided Sunday afternoon was the best day to prepare my freezer meals since Mike makes our dinner and next weekend is Addie's birthday. It took me a little over 4 hours to do it all, but it's done! We're going to eat ours this week, so I'll post more about the preparation later. The girls playing while mom was in the kitchen...

Ella's latest favorite thing to do is help me cut out coupons...she loves anything that involves cutting! I have to be sure to wait for her to come sit with me and then we start clipping. I give her the sheets I am done with and she cuts every remaining coupon out. I've used a couple of hers just because I feel bad she went to so much work :-). (and you'll notice Addie is back to her closed-eye smile again)

Monday = errand-day for us, and we were all over the place yesterday! I'm not going anywhere but school and the library for the rest of the week! Mike's parents gave Ella this princess book boxed set a long time ago...I think she was younger than Addie when she got it. Ella kept it in pristine condition all those years and Addie, on the other hand, has managed to completely destroy it (the books have survived however). It has definitely been one of our most well loved toys and yesterday I finally threw the box away...so sad.

A great $1 store purchase...the girls LOVE to watch this thing spin! They get so excited when they look out the window and see it going around :-).