I have some weekend pictures to catch up on later, but had to share Addie's latest adventure. Yesterday afternoon she was standing on the couch, right next to me mind you, and lost her balance and fell off. On her way to the ground she managed to whack her head on the edge of the coffee table,
HARD
! I freaked...the noise was so loud and it instantly looked
awful
. Luckily, the edges of that table are very rounded and the skin didn't break, but we watched her closely the rest of the night.
Addie's last pre-bump picture...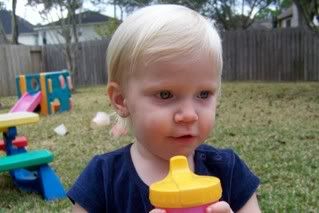 And after the accident (Mike said she looked like a unicorn)...
The swelling is down tons today, but she is still left with a big blue bruise on her forehead that will probably be there for awhile...
oh, Adeline!