I'm trying to start a diaper stock pile when I come across good deals and it's amazing how teeny, tiny the little ones are! I totally forgot :-)! (that's the newborn size next to Addie's size 4 and Ella's size 5 nighttime pull-up...someday we'll be diaper free...I hope)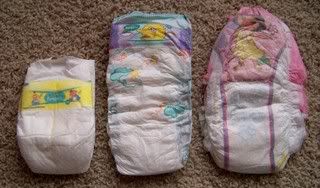 Friday the girls and I stopped by the pet store to inspect the animals. Ella and I used to do this all the time and it is the first time we've gone since Addie was born...so sad. When I was little my family would go get ice cream at Thrifty (I think that was the name of the store) and then walk around the pet store next door. I used to dream of having a
chinchilla
(who knows why...it was that or the toucan), but it was hilarious because Ella fell in love with them this day too :-).
Saturday Ella got to go to a birthday party (most of her friends have summer birthdays, so it had been awhile and she was SO excited!!!). Here are the girls before she left.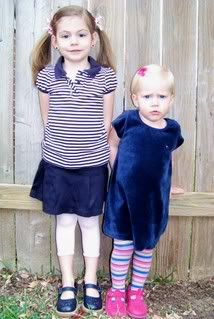 And a little frazzled when she got home. She said it was SUPER fun :-)!

Addie's head bump happened later that afternoon...you can see the remaining bruise in her pre-church pictures on Sunday.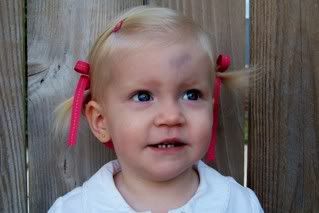 Thanks
Emily
for the idea to tie her ribbons to the elastics first! Worked like a charm.
Addie's bruise looks slightly better today, but it is going to be awhile before it is gone completely...hopefully by the 29th for her birthday pictures (remember she had that awful face rash last year - there's always something I guess)!