Yesterday afternoon when Mike got home Addie was still asleep so Ella and I had a little date to the library and then ran some errands. When we got home Mike and Addie were gone, but they soon returned...with treats of course :-). Mike took her to the post office to mail something and then asked her,
"Addie, do you want to go home?"
"No!"
"Do you want a treat?"
"Yeah!"
And so they went to the doughnut shop where she picked out this beauty :-). The girls ate them right
before
dinner and then didn't touch their
chili
, but that's what makes dads the best, right?! I have a feeling Ella is going to want to run errands with Mike next time, not me :-)!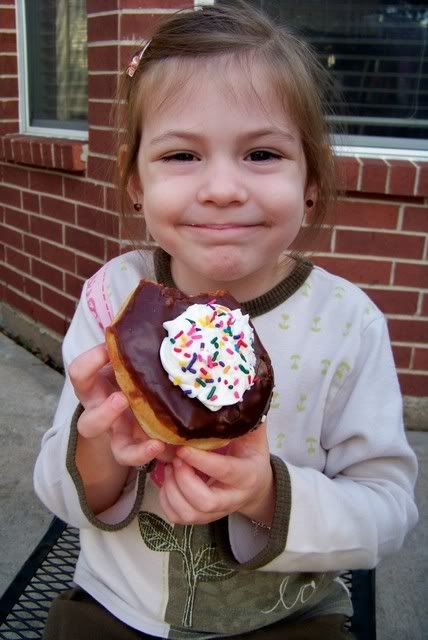 Earlier in the day
Livvy
came to play with us for a little while and we decided to practice going on walks to the park with 3 kids :-). Addie LOVED sitting in the back of the stroller! My camera batteries died at the park, but the whole way home she stood in the back and looked around. If I asked if she wanted to sit down she'd quickly reply "No!" One thing I was not prepared for with Ella on the bike is how slow she is. She gets really scared she is going to tip over if she goes too fast, so I walk about twice as fast as she pedals. She is getting better though :-)! (and we did get Ella a helmet with her bike, but I keep forgetting to have her wear it...woops!)
And lastly, a little promotion for
Freecycle
. It is a yahoo group, and they have them all over the country, whose purpose is to let people get rid of items they don't want anymore and get them to someone who does so they don't end up in a landfill. Over the weekend we picked up this Noah's Ark boat from someone and although it didn't have any of the other pieces with it, both girls have loved using the people we do have with it. Addie's little trike with the handle came from the site as well.