I meant for this to just be about our Friday, but I forgot I had these cute pictures from Thursday night to post. Somehow when I got Addie out of her crib on Thursday morning I completely failed to notice that she had all her little figures lined up like this! We were gone all day until we needed to pick Ella up from school, so she never had a nap and when we went to get ready for bed later that night I saw them and thought they were SO cute :-)! She did too and wanted to get in and play as soon as she saw them.

Back to Friday, after our exciting start to the day we ran off (late of course) to visit teach and then to meet up with friends from church at the park (the big development here was Addie deciding slides were fun again, which was really exciting for us...for the past few months she was scared and wouldn't go on them). We then headed right over to Nana's to finish the load of laundry that was in the machine when it had its meltdown.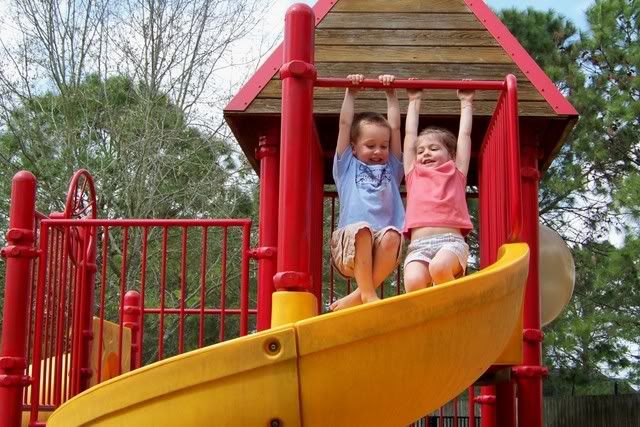 By the time we got home, Mike was getting home from work too and needed to head off to a carpet job right away. We decided to tag along with him since it was quite far away. It was no surprise that Addie passed out on the drive there, she has been playing hard the past couple days! We hung out in the car watching movies and coloring and talking to cute babies in mirrors(and I actually got some reading done too) while we waited.

(and if it makes any of you cold weather people feel better, a cold front came through last night and it's only 53 right now)