Yesterday was party time at our house (after a peaceful morning at church of course :-)! We had lots of fun celebrating Addie's 2nd birthday with all the family that could make it out and then we had even more fun watching the Super Bowl (until the end that is). And of course we ate the
whole
time (
here's
the menu).
Pictures before church (and yes, Addie said cheese AND smiled for me!)...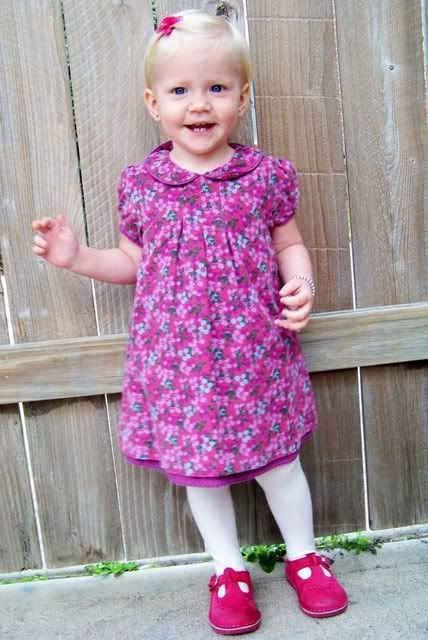 Party Prep time with happy helper Ella (wearing her cute apron Meema made)...

Hmmm, I wonder why Ella likes to help :-)!
Chrissy
and Zach arrive from San Antonio to represent the Freefam and party with us.
After dinner, it's time for cupcakes and ice cream...Addie had been eyeing them all afternoon.


And then, on to the presents! Surprisingly, Addie wanted nothing to do with not only the Crocs from Grammy and Greatfrog, but the pink glitter shoes from us. Not surprisingly she wanted everything to do with the princess toys, coloring stuff and new book. Ella was her eager helper when it came to getting the gifts open :-).

Since Meema and Papa couldn't be there to witness the opening of their present (which honestly, was an anti-climatic experience for all the gift givers), we made sure to record it. Ella was thrilled to have her own present to open too and the girls LOVE their adorable crayon aprons!
A BIG thank you to the clean-up crew (mom and grandma) for making my life easier this morning :-)!!!! Everyone enjoyed the big game in their own way...and everyone looked stylin' with the 3-D glasses on too! Addie kept looking around and telling me "Silly!"

(that's Addie giving the bug a "kiss" above).
Wow! We made it...I'm exhausted now, I don't know about you :-)!