After all the craziness between Addie's birthday and the following Valentine's Day parties and fun, this week we went the anti-social route. It has been nice to just take a break, get caught up and not worry about going anywhere particular on any given day. Yesterday we broke out the painting supplies for the first time since the fall. Ella was in heaven and Addie fluctuated between loving it and hating being messy. I think she ended up deciding she loved it despite the mess though because this morning the first thing she said when we came downstairs (after requesting cereal) was "I want paint."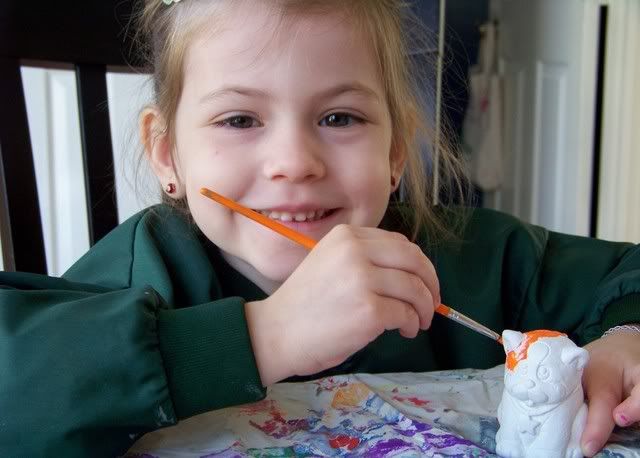 Oh, Adeline :-). Her faces were too funny and we used an old pajama shirt as her art smock. The last time we painted we were outside sans clothes so I didn't even think about the fact that we need another smock now. She never asked to stop or get down, just acted upset while she kept painting...then she would be fine...then she would get paint on her and make a silly face again. And yes, she picked out all her own hair accessories and necklaces.

Later in the afternoon the sun came out so we enjoyed some fresh air and the girls ate their apples. I recently discovered that although neither of them have loved apples when I give them slices, if I let them have the whole thing and be "big" then they will devour them. So now I always buy some little apples so they can each have their very own and it works like a charm. Ella will eat hers right down to the seeds and Addie, who won't even eat one slice, will nearly finish hers too. Silly kids :-).