I am 30 weeks pregnant today...crazy! For some reason 30 weeks seems like a landmark to me when I suddenly am very near the end (granted I do have nearly 10 weeks left, but who's counting?!). Here is my belly progression over the past few months. My pre-pregnancy picture I am in my bathing suit so fortunately for you I won't post that one...you still get the idea :-).


Ahh, now I'm missing my flat tummy and my long hair...someday they will hopefully both return :-).

I am feeling less stressed now that we have the bedding for Preston's room, and a bed for Addie! Hallelujah!
Yesterday Addie woke up good as new and was playing with her little animals. I love to see how she has arranged them and where they are sitting :-). She was SO excited to come downstairs and see her new big girl bed (that I found for a STEAL on Craigslist...love that site!). She had fun trying it out and promptly requested a pillow.

So far, so good on sleeping in it. There was a minor mishap early in the night last night and she fell out, but she went right back to sleep and slept in LATE this morning. As I blog this she is even napping in it! I have been pleasantly surprised to say the least. The plan is to keep the bed in her room until we paint it over spring break (sometime next week) and then we'll make the move to Ella's room...and we'll see how that goes (I'm VERY nervous).

The plan for Preston's room is a jungle theme. There are actually so many cute options for boys' nurseries that I considered not going with jungle, but in the end decided to stick with it. I've mentioned before that I spent a semester in Uganda while in college and minored in African studies and I've always wanted to do a jungle room. Preston can thank me later for not giving him a Swahili middle name like the girls :-). I found a cute bedding set on Ebay that included LOTS of stuff and it came last week...now we need to figure out our paint color.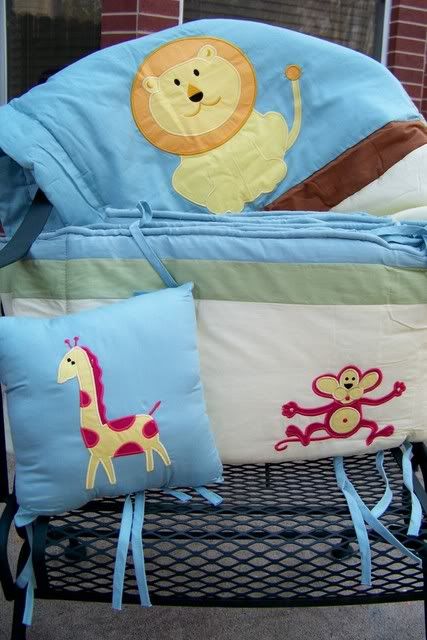 I bought these little wooden chairs for Scott and Hope when I was in Uganda. Once they outgrew them my mom gave them back to me and they've just been waiting for a chance like this to really shine :-).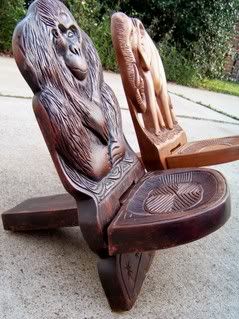 Then I was at Target a little while ago and in their $1 spot I found all these little jungle accessories (of course all the jungle stuff was on the $2.50 wall, but hey, it's still a deal). I bought some of them and called my
mom
who went to check her Target and found some more. I'm especially excited about the knobs for the dresser!