I mentioned
before
that Mike's high school's basketball has had an amazing season. They ended the season ranked
10th
in the state and had won their first few playoff games. Last night was the 5A Playoff Regional Quarter Finals and we decided to take the girls out for another late night on the town and cheer on the Broncos! More on the game to come...first, earlier in the day...
Ella decided to have a sleepover with Addie (at 10am). They brought in lots of stuffed animals and books and pretended to sleep :-).
We didn't make to the library in time for storytime, but we went to pick out new books and say hi to the librarians a little later.

After lunch and some playing it was time for naptime/quiet time. I told Ella I wanted her to at least lay in her bed for a little while since we were going to be up late again and was pleasantly surprised when she actually fell asleep! We love our bedtime around here and it really throws us off to miss it! Addie is still obsessed with calling people on the phone (and I think the novelty of talking to her is wearing off for all the grandparents :-), but we continue to harass them).

Time to get ready for the game...or be harassed by dad (Addie really does love this, I promise!).


GAME TIME!!! Go BRONCOS Go!!!

It really was an exciting game! We were ahead for most of the first half, but during the third quarter we kept barely missing our shots and they didn't. The fourth quarter was crazy! I am SO ready for March Madness to begin now :-)!!!
Poor Addie was a little scared by the noise and intensity of the room. Here's the play by play of the last minute, we are the Home team on the scoreboard (and wearing white uniforms)...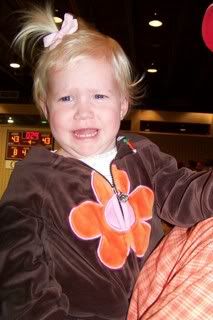 They tied us up and then...
I switched out of video mode to take a picture of the scoreboard and barely made it in time for the shot at the buzzer by the other team. Mike had just finished saying, "Just don't let them shoot a 3!" when this happened from the 3 point line...
Oh, it was SO sad :-(! You can read an article
here
about the game. I better have good luck with my brackets this year for March Madness...I don't know if I'll be able to handle too many losses like this (I seriously get teary eyed watching it...darn hormones)!