We met at a park yesterday for our second freezer meal swap. I thought it was a great idea initially, and the park was awesome, but when it was time to get down to business I realized that I needed to supervise Addie still (so she didn't try this on her own and fall and get hurt) which made the actual swapping a little stressful. Ella agreed to push Addie on the swing for awhile, but she soon wanted her own turn.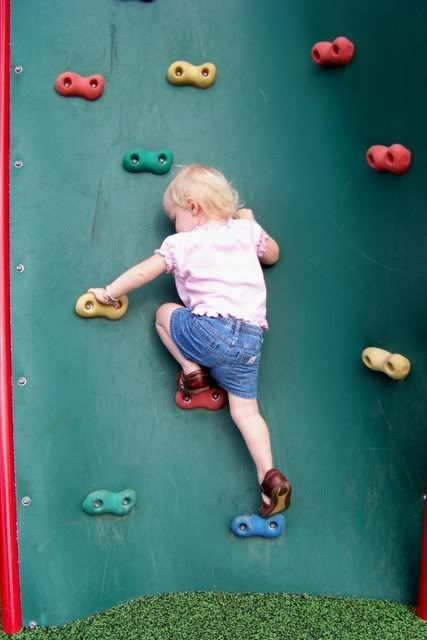 Addie ran off for the playground, I went to get her and make her sit with me (which she wasn't happy about) and when it was time to leave Ella wasn't happy about that. The average meal price ended up being a lot higher than our last swap, which I wasn't happy about, and so we got into the car with both girls crying and me feeling stressed (the next swap is at my house and depending on the avg. meal price may be my last swap, although I love having the meals on hand). We have been taking advantage of Redbox's free movie Wednesdays and had picked up Space Buddies on the way to the park (you know the golden retriever movies...the girls love them) and I knew the girls were really excited about the movie. We still needed to stop at the grocery store before heading home for lunch, so I did what any good mother would do and threatened them with the movie. When I told them they needed to stop crying or we wouldn't watch Space Buddies that afternoon Addie cried, "Space Buddies! Space Buddies!" So I said, "If you want to watch Space Buddies you need to calm down and stop crying." and guess what, they both immediately stopped. They were both really good at the store though, so don't worry, they still got to see their beloved show.


I think it was around 80 here yesterday in the early afternoon, until a cold front came through. It really is crazy how fast the weather changes around here! We felt the cold wind come in as we left the park and as we walked out to the car from the grocery store it started to drizzle a little. I put the girls in the car and walked around to the back to unload the groceries and it suddenly started POURING. By the time I ran to the driver's side again I was completely soaked...and look how nice and dry the girls are! Today it is cold and getting colder, I think the high is 55. The good news is that it has helped out with the broken washer situation because just when we are running out of summer clothes, it gets cold again and it's back to winter ones :-).
The other good news is that I did this grocery trip all on my own and got these 30 items at Kroger for $31.63. Usually I wait for
Melissa
to post all the coupon match-ups and then I just use her list, but yesterday morning I sat down and went through all my coupons and figured it out on my own. It looks like a bunch of junk food I know, but I won't have to buy chips, juice, Mike's favorite salad dressing, or fruit snacks for the next couple months and that, especially combined with not having to buy diapers, should really help keep our grocery bill down.