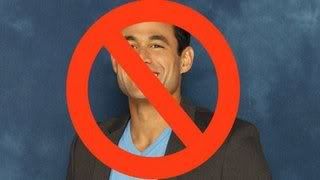 WHAT?!?!?!?!
I guess they weren't lying this time around when they said this was the most dramatic after-the-rose ceremony ever! I can't believe Jason broke up with Melissa ON NATIONAL TELEVISION! What a jerk and poor Melissa!
I thought Melissa and Jason looked so cute together and said to Mike at the end of the episode when they were all in the pool together, "Aww, I hope they work out!" Then only minutes later I was completely stressed out! When they brought Jason out on stage by himself and he was acting so strangely I couldn't figure out what had happened...did her parents hate him?! did she develop some terminal illness?! Jason has always acted a little weird at times... a little dramatic, a little dorky, but I thought it was endearing in a way that the right girl would appreciate... well, I changed my mind tonight!
As soon as it all came out that he was breaking up with Melissa (on TV!) to try and get Molly back (on TV!) I was just hoping and praying that Molly would say something to the effect of, "What?! No way, weirdo! Shouldn't you be able to make decisions by now?!" But of course, we all really knew she would do nothing of the sort. Part of me hopes they don't work out (just to teach him a lesson mainly) and the other part of me hopes they do (for Molly's sake and mainly for little Ty...poor kid!).
I guess only time will tell.
I REALLY hope that some cute, nice southern gentleman will fall in love with Melissa and make her happy...she is too sweet to keep having her heart broken! (when Chris said to tune in tomorrow for the second half of the show Mike said, "Jason wants to give things a try with DeAnna now." I wouldn't be surprised!)
BOO JASON!!!