Yesterday afternoon Mike convinced the girls it would be lots of fun to go watch basketball with him downstairs so I could try and take a nap. Addie was cuddling with him and fell asleep...
while he was holding her
...
amazing
!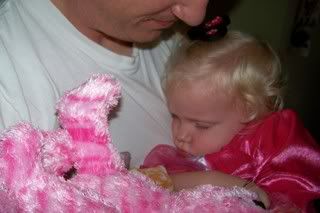 He laid her in her bed where she remained passed out for a little while until we woke her up (it was late in the afternoon and we have enough issues getting her to sleep at night right now without a late nap interfering).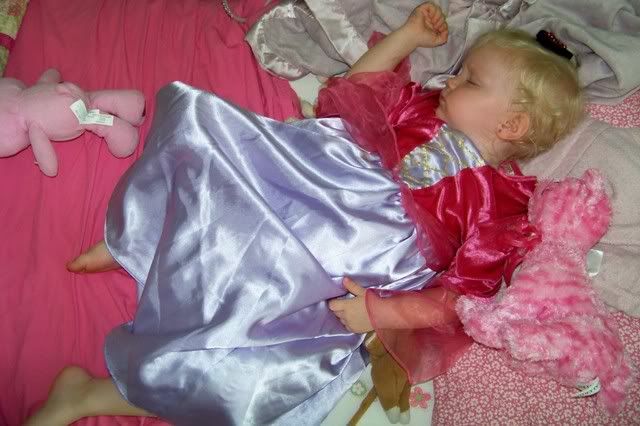 He brought her in by me and Ella and I could NOT wake her up.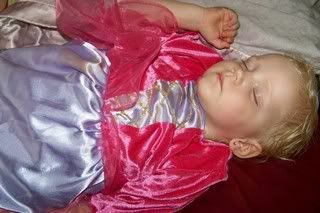 She was just like Sleeping Beauty, which is very fitting because Addie IS Aurora in our house.
We all have alternate princess identities around here. Ella is Cinderella, Addie is Aurora, Mike is Prince Eric (or the Beast depending on the day) and I am Ariel (or Belle). Some of our friends have been assigned princess characters as well. Addie will tell you Livvy is Mulan, Nana is Snow White and Venitha is Pocohantas (and yesterday when she was actually paying attention to Preston for a moment I asked her which prince he could be and she decided on Phillip, Aurora's prince nonetheless, I'm hopeful this is a good sign!). If you tell Addie she is cute or smart or silly she was usually reply with an emphatic, "NO! Addie's Aurora!"
Anyway, back to the story. Since Addie looked like Sleeping Beauty and nothing else would wake her up, Ella thought a kiss might just do the trick...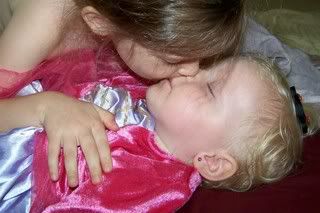 And what do you know?! It worked! I told Ella she must be Addie's true love :-). Addie actually smiled when she opened her eyes, but I missed it. So, there is the proof...Addie IS Aurora!
While we are on the subject of sleeping, Preston and I can't get enough of it (thank you Ella for that beauty of a shot).
The girls on the other hand are still struggling with the concept of going to sleep in the same room together. Every few nights we put Ella in the guest room so they get to bed at their usual time, but I want them to learn to do it in their room at some point. The main party culprit is Addie, although Ella is always happy to play along. Their room was all picked up and clean when we tucked them in and this is what we found when we checked on them a couple hours later (and notice Addie's preferred sleeping position - feet on the ground or hanging off the bed)
And a few randoms...
Mike is taking the girls on a road trip with his family the first week of June and they were excited to help him try out the new cargo holder. And we have been seeing a little more of Preston's eyes the last day or so, which Ella is thrilled about :-)!