We had quite the weekend...lots of food, family and fun!
It was nice to host the party at our house because that meant we got to have ALL our family with us for the holiday, which was such a treat! I am so thankful that not only do Mike and I both have such wonderful families, but that they get along so well too. I actually had a lot of fun planning
the menus
and cooking too. I can get pretty stressed out about getting things done and things going well, but I honestly didn't feel that at all this weekend. It was just nice to be surrounded by everyone we love.
Without further adieu, here is our Saturday...
THE NEIGHBORHOOD PARADE

We were prepared to cover our ears this year (
last year
the firetruck was a little traumatic). I just love how bright the colors came out in these pictures. Oh, and it was Preston's first parade experience :-)...what a milestone!
HANGING OUT AND ENJOYING THE COMPANY
Addie fell asleep, well passed out is probably a more correct term, and we could NOT get her to wake up for anything! Papa had her, Grandad had her, Aunt Kayley had her, etc. eventually she joined the party and didn't slow down for a LONG time after that :-).
FOURTH OF JULY FUN
Ella with her favorite people, Aunts Chloe and Hope, making JELLO cups. I think this will be a frequent activity in our house from now on...it's fun, easy and cheap (not to mention there are so many colors of JELLO to choose from)! Ella and Addie now have painted rainbow fingernails (which they LOVE) and played lots of dress-up and Barbies...thank you aunties.
I loved all the girls in their festive colors!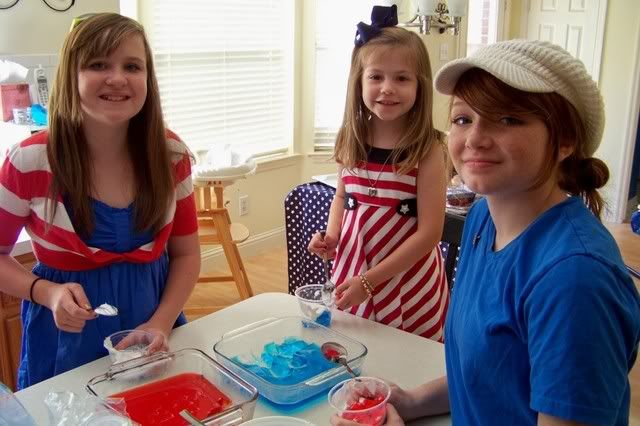 The girls love Uncle Scotto too and he braved the heat outside with them for quite awhile.
TIME TO EAT!!!
No one but Addie gets a turn to say the prayers around here...even when someone else is saying them she tries as best she can to repeat everything they say in her cute little voice. She sure knows how to steal the spotlight :-).
HAPPY BIRTHDAY TO MIKE
FAMILY PHOTO-OP
TIME

All The Men...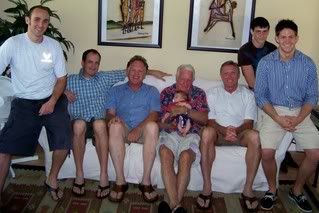 My favorite :-)! I was setting the timer on the camera so we could get a picture of the whole crew and this time I just pushed the button without hitting the timer first on accident :-). I don't think I could have captured everyone looking so serious if I had tried!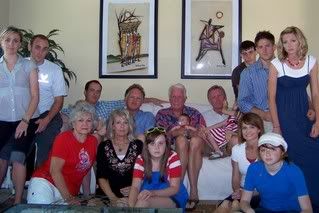 Addie is hiding behind Grammy above and obviously NOT happy below.
TIME FOR FIREWORKS
Ella tried SO hard to be brave this year. She stayed outside with us all for a long time, but when my mom noticed little tears in the corners of her eyes she took her inside to watch from the window. I don't know why she thinks they are so scary. I know she doesn't like how loud they are, but she was covering her ears and someone was always holding her so I thought she would be ok. I hope she learns to like them eventually. Poor Ella :-(.
Addie, on the other hand, thought they were great.
Kayley's in-laws, the Millers, came over with their fireworks as well and the two Scotts :-), put on quite a show for us!