Ella played with her favorite "doll," Preston :-)...

We've been eating yummy food...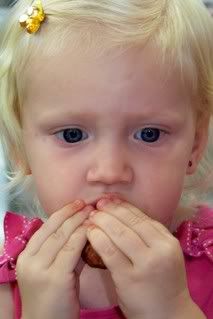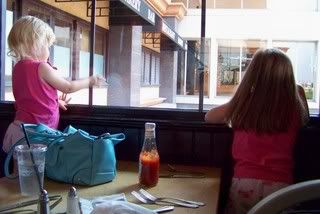 Preston had his 6 week check-up (our new pediatrician likes them to come in 2 weeks before the "month" mark for some reason). He weighed 10 lbs. 3 oz. (50th percentile) and is 22 inches long (50-75th percentile). The 6 week vs. 2 month appointments are messing up all my comparisons between him and the girls! Oh well :-). Of course the appointment meant lots of shots for poor little Preston. And as if I hadn't put him through enough already, as I was buckling him in his carseat on the floor of our exam room, Addie "accidentally" hit him on the head with the little formula can sample they brought us (I really don't think she did on purpose). He wasn't hurt, but he sure didn't like it and I felt horrible!
Lots of fun was had playing with Johnny...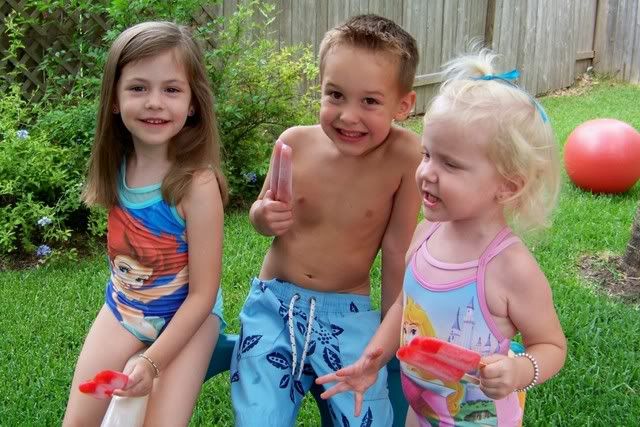 Water fight (even Addie was trying to throw buckets of water)...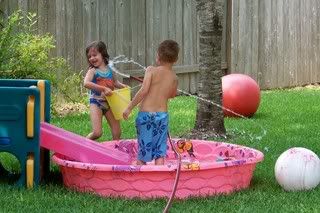 For some reason Addie thinks sidewalk chalk is supposed to be used like make-up, although I'm pretty sure she's never seen anyone else use it that way.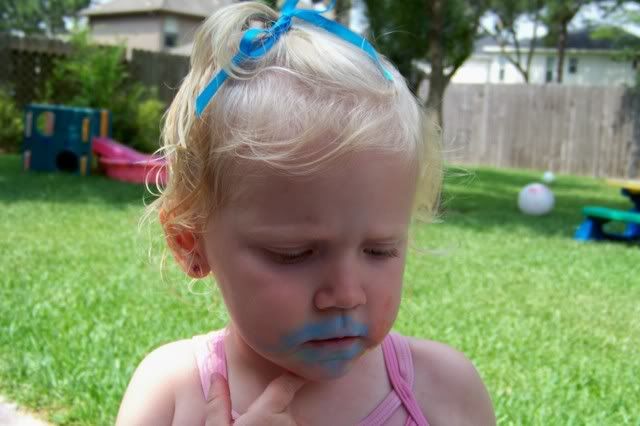 Time to move the party inside...what is it with kids and popcorn? They think it is THE best...Works for me :-).
Preston was sad the rest of the day (the poor little guy
had
been through a lot), but he did seem to like the swing. Ella is taking her new role as a mini-mom pretty seriously :-).
Addie is following in her Dad's footsteps already. And speaking of him :-), it was Mike's birthday yesterday. It was pretty low key around here, but we did try to make him feel special on his big day. It was also my first day back to work and although I only went in to Gymboree for a total of 3 hours, I was still nervous leaving all 3 kiddos, especially since Preston wasn't himself. They all did fine of course. Mike gave Preston his bottle and he took it well, and then I had to pump when I got back home which is never exciting. What is exciting though is that for 2 nights in a row Preston has slept until 4am (instead of 2:30 or 3am...that means 1 to 1-1/2 hours more of sleep for me in a row!). The doctor said most babies start sleeping all night when they get closer to 13 pounds so I'm thinking I need to try and fatten him up...and FAST :-)!