A BIG thank you to Hope for coming over to referee the girlies so I could get some things done today!
Although Ella and Addie love each other, they have been with each other practically
every
minute of the summer and we'll just say they both are ready for some personal space. They were arguing and fighting over toys all morning which was making it very hard for me to get
anything
done (and for Preston to be able to get some sleep).
So, it was Aunt Hope to the rescue!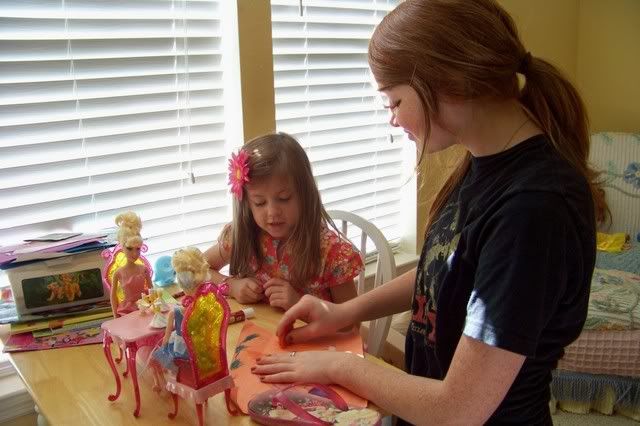 A couple other pictures I didn't get around to posting of Addie...
Playing with Daddy
"The cat is jumping on your nose!"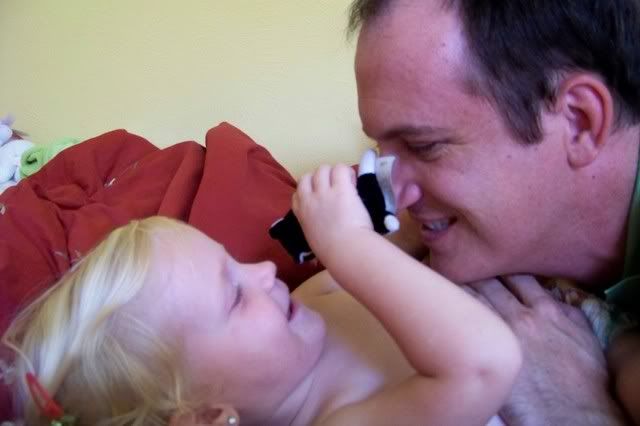 Both girls are pretty good about not losing their accessories. Considering the number that they wear on any given day and their ages, it is pretty incredible that we have only lost a handful of bows/jewelry items over the years.
Here's the proof...
Addie fell asleep during her quiet time and when I went to wake her up after a little while Ella came in with me. I noticed one of her earrings were gone and pointed it out to Ella. As we began to try and wake Addie up Ella saw that she had managed to hold on to the earring during her nap! (and later that afternoon Ella found the back to it downstairs!) Way to go girls :-)!