I have a business proposal...Let's buy a farm and start a competing pumpkin patch! Any takers? Seriously, Dewberry Farm is out of control! They keep raising their prices and it was
insanely
crowded. I can't believe how many more people there were than
two years ago
when we went, or even
last year
when we
thought
it was too crowded and went to Chuck E Cheese instead. Of course, it didn't help that we bought Addie an $11 ticket she didn't need, but still, if we could open a pumpkin patch that offered even half the things Dewberry has and charge $5 while we build it up I think we would have success! Our tractor driver told us they had 10,000 paying customers on Saturday and that doesn't even include the people that pay extra to do some of the activities that aren't included in admission or buy food and pumpkins! In ONE day! And there really aren't that many people working there...the food booth workers, some tractor drivers, a ticket collector and a few manned activities, but for the most part you just wander and do what you want. The owners of the farm are geniuses :-)!
Enough of that though...
Overall we did have a fun time, but I think it was our last year at Dewberry Farm aside from school field trips. The highlight for the girls was the giant hay pile, not the hay ride or seeing the farm animals...sometimes it's the simple things :-).
Waiting in the long line. I worked hard to convince Mike to do this again this year and as we waited in line I knew he was right, we should have just done something else. It's hard to resist a holiday themed activity though.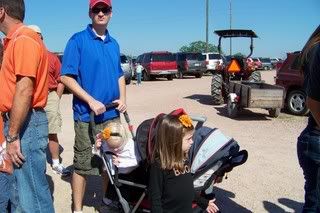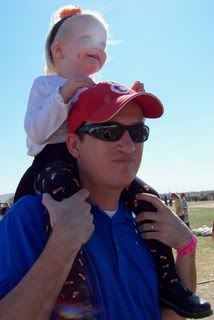 | | |
| --- | --- |
| | |
| | |
| --- | --- |
| | |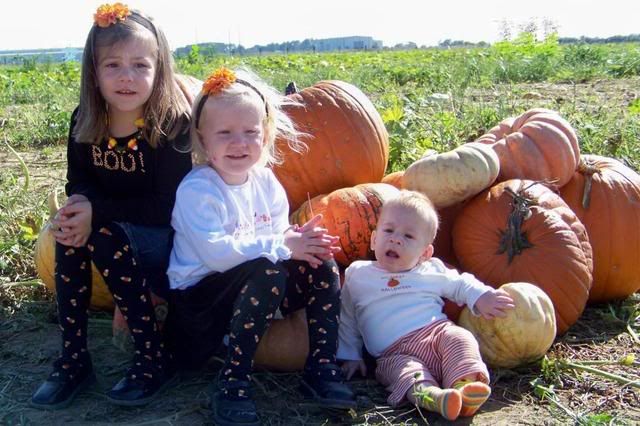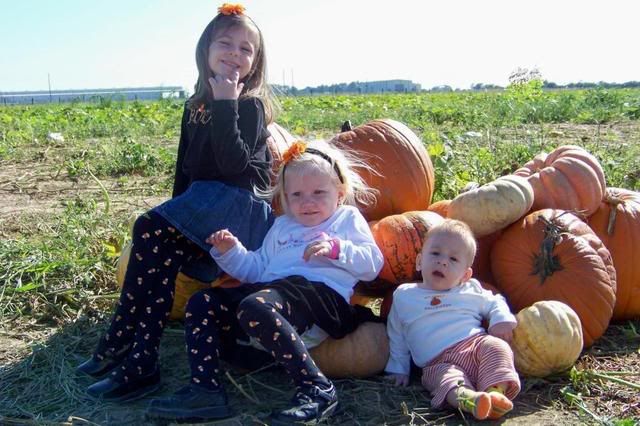 Addie was in love with the hay and the dirt of the farm :-). When she layed here on the hay ride back from the pumpkin patch she told me she was a sleeping giant.
I LOVE that Addie is holding a flower where her head should be, Ella is waving and that Preston has no idea what is going on, but is the child closest to doing what he is supposed to.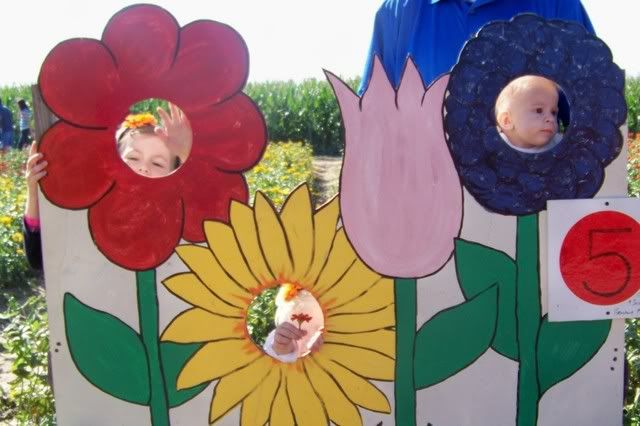 My favorite part of the day was watching the girls with the butterflies. These ones let us get a lot closer than the ones we see in the backyard :-).
(and I just have to say, Addie was wearing the shirt Ella wore when we came 2 years ago...they are getting so big :-(!)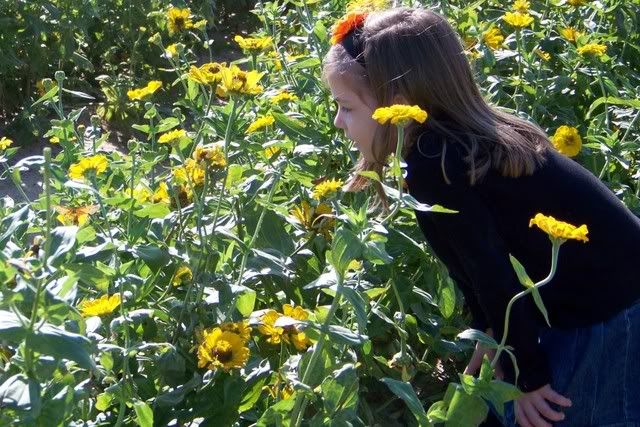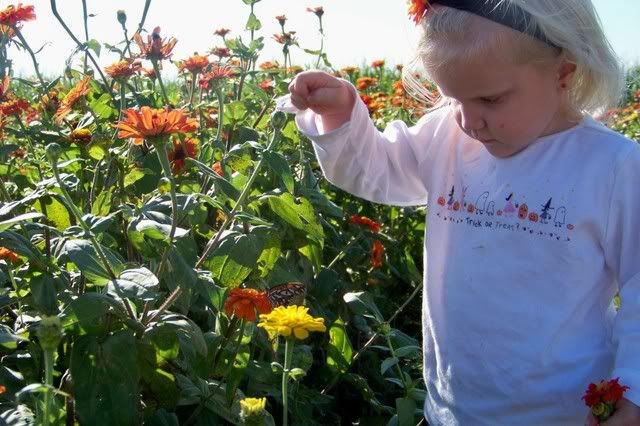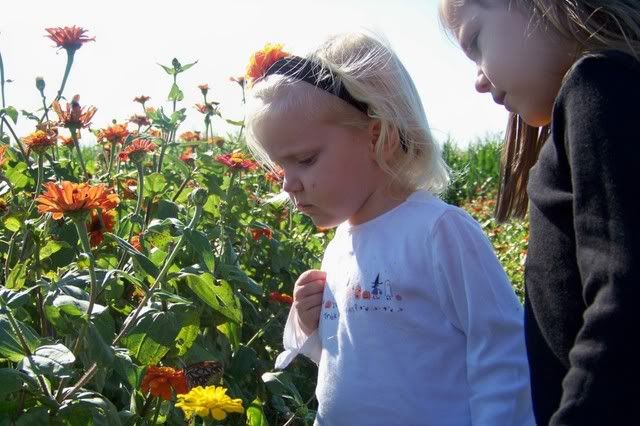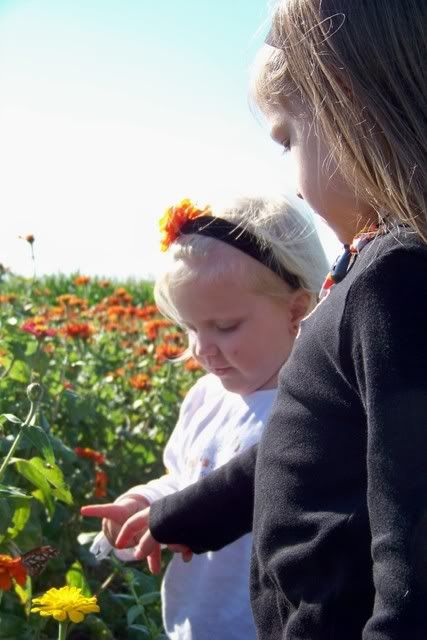 Butterfly kisses from Adeline.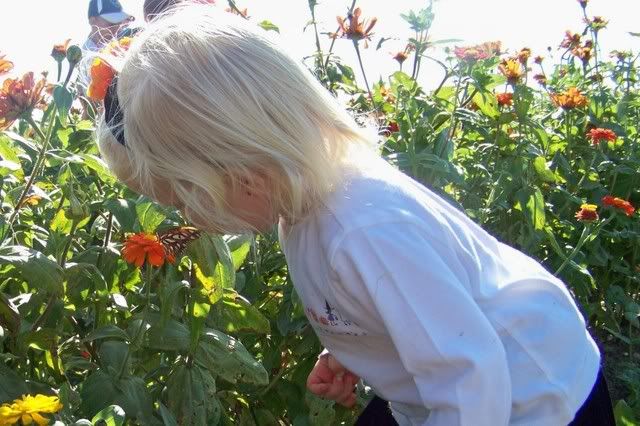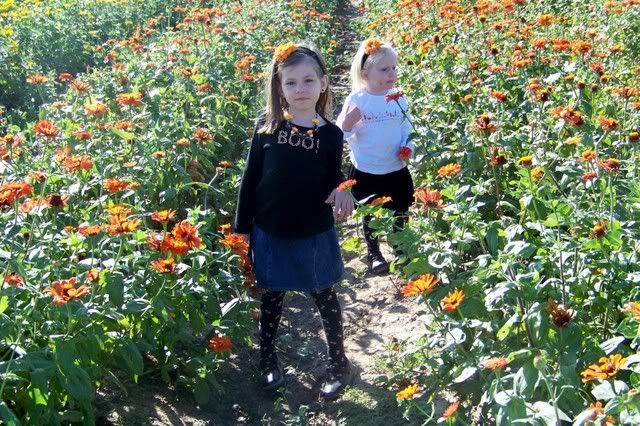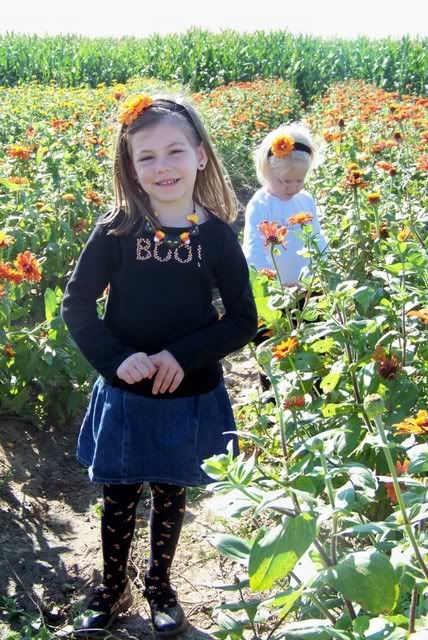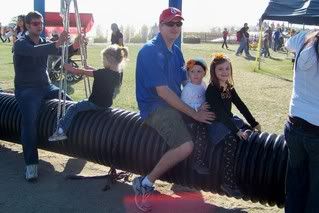 They haystack fun begins :-). There were holes in the hay at the top of the "mountain" and Addie was in heaven just sitting in them. I should have known Ella would love swinging on the ropes - she's been practicing on our tree branch everyday.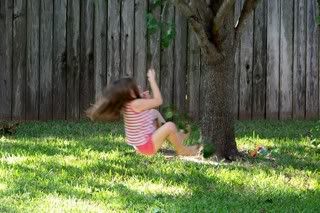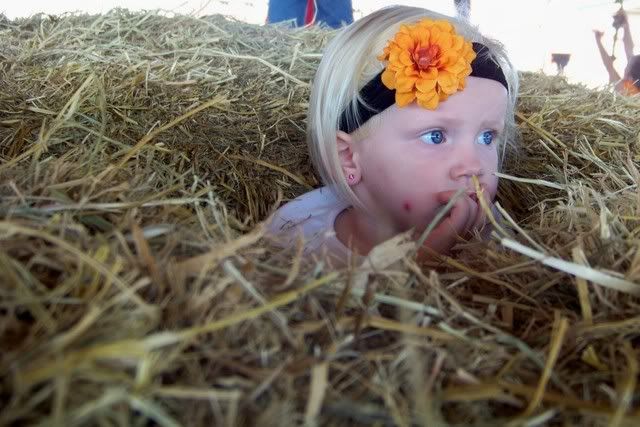 This little boy was so sweet and tried for awhile to help Addie out of a hole that he thought she was stuck in. I went and thanked him and explained that she actually just really likes it in there, but I was impressed that he would stop playing to help a little girl he didn't know.
Poor Addie wasn't quite big enough for the swings yet.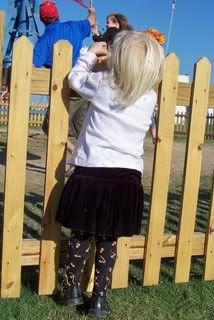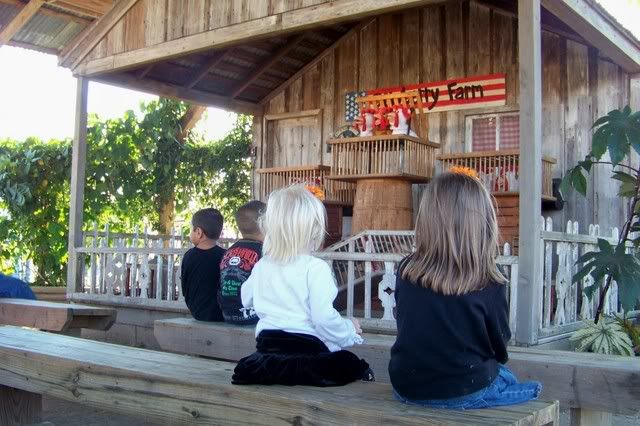 Thank You Dewberry Farm, it's been fun!