Monday morning Ella told me her tummy hurt as we walked outside to wait for the bus. She says things like this quite often so after asking some questions to try and figure out what kind of tummy-hurt she was feeling, I told her it was probably fine, but not to forget that if she is ever at school and doesn't feel well she can tell her teacher and the school nurse will help her (and call me if I need to get her).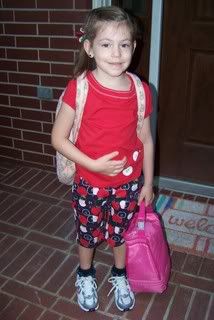 Later that day my old college roomie Kim came by with her baby Wyatt (they are moving to the opposite side of Houston at the end of the month). Wyatt is
so
cute and makes Preston look teeny (he is 9 months old, Preston 4 1/2) :-). We were just hanging out chatting when my phone rang around 3pm. It was the school nurse telling me "darling Gabriella" was in her office and wanted to go home. Thankfully with Kim there I was able to just jump in the car alone while she waited with the other kiddos at home. The nurse brought Ella out and told me she was a little warm and was complaining of a sore throat but thought she would be fine for school the next day unless her fever went up. I was feeling concerned and guilty for sending her to school, until while walking out to our car Ella told me it was her arm that hurt...interesting. She played outside and ran around all the rest of the day and I am pretty sure she was just testing out the nurse system I had explained to her that morning :-). I can totally picture her thinking on the car ride home, "Wow, it totally works!"
| | |
| --- | --- |
| | picture coming, it's one from Kim and the site she emailed it through is down right now |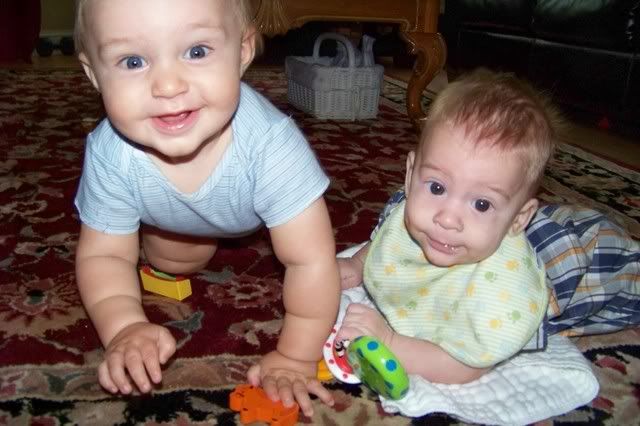 Preston saying to Wyatt...Watch out! I may be small, but I'll still get you!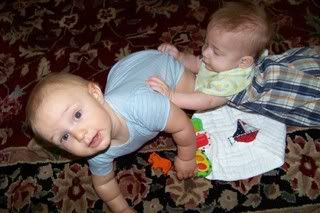 Monday morning Addie and I found all our Halloween decorations and got them all set up to surprise Ella. Ella was so excited and insisted on wearing this Halloween necklace to school yesterday. She told me Halloween is her second favorite holiday, after Christmas of course :-).
| | |
| --- | --- |
| | |
Addie had school yesterday as well and was so excited to go to Ellie's house (this month her mom is in charge and the girls are learning about their senses). When I told her where she was going the day before she said, "I want to go to Ellie's house and eat cheese!!!" Apparently she had it there last time she went to play :-), and Addie
loves
her cheeses.
Addie's potty training is going really well too! She has pooped on the potty the last couple mornings without starting it in her pull-up and freaking out. I am
so
relieved that she is doing so well. Ella got the first part down instantly but wouldn't poop in the toilet for almost 6 more months and let me tell you, isn't not wanting to change poops the main reason to potty train?! Addie is staying dry all day as long as I ask her periodically if she needs to go. She has even started to just go in and go by herself too! We'll keep the pull-ups on for awhile until I'm sure she's really got it though. I'm pretty relaxed when it comes to potty training (which is weird since I'm uptight about so many other aspects of child rearing); I'd rather not deal with the mess and just let it take longer.
| | |
| --- | --- |
| | |
Ellie's mom, Katie, emailed us all photos from their school day yesterday and included the captions. They made me laugh, so I'm keeping them...

| | |
| --- | --- |
| Cute Addie playing with the puppy. | The plastic feels slippery |
| | |
| --- | --- |
| HEY COME BACK!!!! | Touch the spiky plant |
| | |
| --- | --- |
| At least we are all now running in the right direction! | Yea!!!! We made it!!! |
| | |
| --- | --- |
| Snack Time | Addie giving us her best impression of a cat! |
In weird news with me, I decided to go to a gastroenterologist and get everything checked out with regards to my Celiac Disease. We always up our insurance coverage the year I have a baby, so I've been making sure we all get everything checked out before the end of the year. And although I am
very
ready to be done visiting doctor's offices, it has been good that we have done it. Mike and I both had suspicious moles removed at the dermatologist and one of mine ended up being pre-cancerous. I had to go back in and have more taken out and we are both to be vigilant about watching for changes and going in to get checked bi-yearly.
Anyway, back to the GI, I told her I haven't been following my gluten-free diet strictly for probably the past 10 years and wanted to know what it would do to my body, etc. I also had questions about the blood test they can do use to diagnose people because I would like to have our children tested to be sure they don't have it as well. The main information I left the office with was that even if you aren't exhibiting symptoms, you can have Celiac and it can be causing damage internally (which had made my mind up to get the girls tested immediately) and that the main risk to people with Celiac who don't follow their diet is that they can develop lymphoma. I told Mike before I went in that she either needed to tell me I was cured or scare me to death so I would be more strict with my diet, and she
definitely
scared me.
It didn't help that on Brothers and Sisters this past Sunday Kitty was diagnosed with lymphoma!!! Needless to say I was a mess watching it.
They drew some blood to have it tested and she told me that if it came back positive for Celiac she would run some other tests just to be sure everything was good but that if it came back negative they would schedule another biopsy since I have tested positive so often in the past. I just knew for sure it would come back positive so I've pretty much been waiting to hear the news and get the other exams scheduled. Then yesterday I received an email from her nurse telling me that all my blood work came back normal and that the Celiac test came back
negative
...I was shocked! The thing is, I know I have it still because my body doesn't process gluten normally and I can tell. I'm really disappointed though because I now feel that the blood test is completely unreliable and that there is no point of testing the girls if it can come up negative for me! Also, I really liked this doctor when I met with her (although it was the first time in my life that I think a doctor has been younger than me - get used to that right :-)!). She really knew her stuff and I felt comfortable asking her questions, but I have since been really disappointed in how things have been handled after our visit. I had to email in to find out my results (the nurse said she would call me by the end of the week) and I have left 2 messages for her nurse asking if they want to schedule a follow up test and haven't heard back. So, I'm just waiting and in the mean time really wanting to get this done so I know for sure what is going on.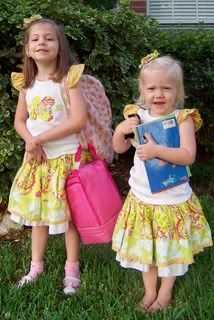 But today is a good day. We have Addie's library story time and Ella's first soccer practice of her entire little life :-) tonight AND Preston is sleeping like a champ. And speaking of Preston, apparently I need to take some pictures of him today because he has been left out of most of these, poor little guy.
I'm anxious for our cool weather to return so that I can't use the hot, humid air outside as an excuse not to work out anymore. I've really got to get going on that...it's just so hard :-)!
And if you actually read that whole post, congratulations...you probably know way more about me than you ever cared to :-).