I had a little conference with Ella's teachers on Monday and was thrilled to hear how well she was doing.
Mike and I have talked about how it would be fun to just be able to watch her at school and see what she is like there with all her little friends, doing all her little activities and participating in lessons.
Both her teachers (Spanish and English) said that she had been very quiet at the beginning of the year but after a few weeks really started to open up. Ella raises her hand and answers questions and they said she is always very sure of her answer. In Spanish the teacher said she is quieter but that she can really see her brain working to figure out what is being said and that her face lights up when she recognizes a word.
They both commented on what a wonderful laugh she has. Her Spanish teacher even remembered the first time she heard it. She said she was working with some other students and heard this hearty laugh and looked over and was shocked to see it was coming from little Ella :-).
They said she gets along well with the other students, she loves to sing and dance, and that they are always excited to see what cute outfit and hair style she'll have. They went over the milestones she should be reaching for both Spanish and English and she is doing well in both.
They also went over a test they gave her at the beginning of the school year that is used to test Spanish speakers. The first time they gave the instructions for each section and the test in Spanish and recorded how many she got right and the second time they gave the instructions in English before giving the test in Spanish and showed me improvement. The last section of that test was a reading comprehension paragraph, but the paragraph was of course in Spanish. The Spanish teacher said Ella was so cute and just smiled up at her the whole time she read the paragraph and then said, "I don't know that." :-)
It will be interesting to see how much she is able to comprehend by the end of the year. I was able to see her writing journals and it was really amazing to see the progress she has made in just two months! The first days of school she was only drawing pictures and now her entries are filled with her cute little words. You can see her trying to get her words just right and see her little thought process. They finally set up a classroom volunteer schedule and I am excited that I will be able to help out and see more of what goes on while there once a week.
I asked them about her recent sad faces for excessive talking (they have a little chart in their folder where they get a happy face or sad face each day- if it's a sad face, there is a number by it so we know why she got it and Ella had a few over the last couple weeks that all corresponded with excessive talking). She got them all in English class but the teachers said not to worry about it - that in some ways it is a positive sign that she is becoming more comfortable in class and gaining confidence. And also that all the kids are working on following rules and learning when to listen and when to talk.
So Ella is doing really well and she LOVED hearing me tell her all the nice things her teachers had said when she got home from school that day.
We are SO happy with the two-way immersion program and love both her teachers. I am so, so thankful that she has this amazing opportunity to learn two languages at such a young age and that we live in such a wonderful school district!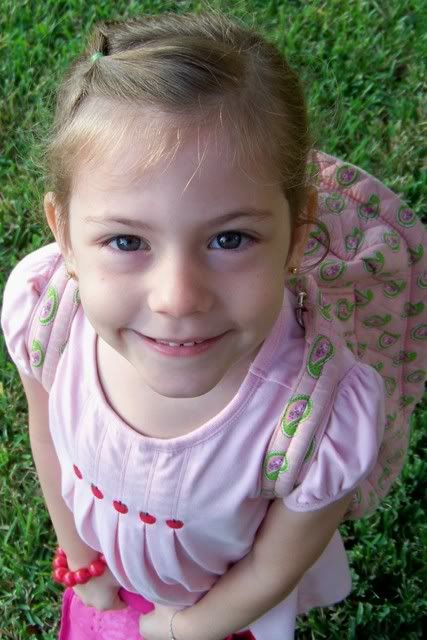 These are the comments that were typed up on the paper they gave me to bring home. Some of them are the same as things they told me, but for records sake, here it is:
"Ella is doing very well academically. She participates with enthusiasm in both English and Spanish. She is very quiet in Spanish class, but I can tell she is listening and processing information. She loves to sing and write, and enjoys sharing her work with others. She gets along well with others, and truly enjoys her day. Thank you for all the support you give her at home. We really enjoy having Ella in our class and being able to take part in her social, emotional, and academic development."