Ella keeps this little metal Tinkerbell purse under her pillow at ALL times. It is filled with her most prized possessions that she would prefer for Addie never to touch and she keeps it under her pillow even to sleep. I told her she could move it at night so her pillow would be softer, but she put her head down on it and said, "See, it's comfortable!" The other night when Mike was putting the girls down Addie managed to get a hold of it and Ella gasped, "No Addie! That's my treasure chest!" Most of the little goodies inside are things that Ella picked out after earning a trip to the $1 store or $1 spot by doing her chores. I love to see what random items are treasure to her :-).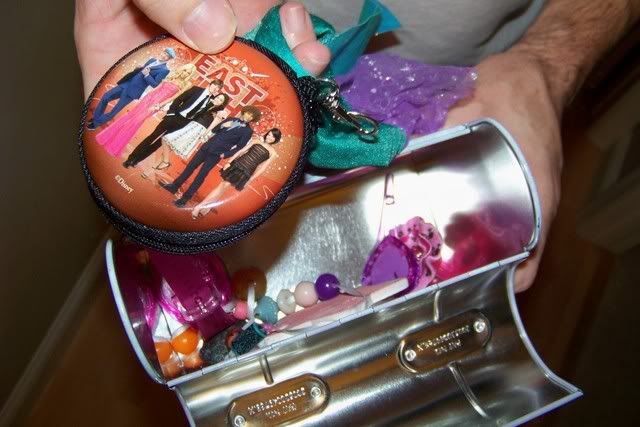 In my cleaning preparations for Janna's trip last weekend I finally went through the huge stack of papers Ella had brought home from school each day. I saved a couple favorites and took pictures of a few extras before recycling them. I feel SO guilty every time I get rid of something she worked so hard on, but I just can't keep them all unfortunately.
"When Preston is 2 or 4 we'll get a dog."
(I always tell her when he is 3 we'll
talk
about it)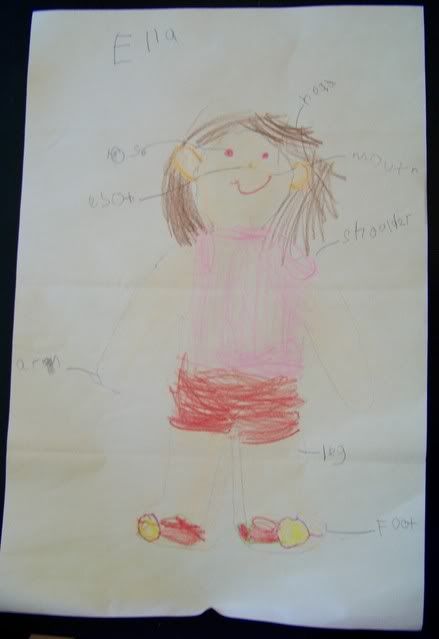 She thought up this all on her own and thought it was pretty funny:
The first line is her mess-up line, then:
"Dad will turn into Addie.
Addie will turn into Dad."
The smiley face is because Addie will be happy to turn into Mike and get big, but Mike will be sad to turn into Addie and become little :-).