We met up at my parents' house Halloween night for my
mom
's traditional
Taco Soup
dinner and some pictures while we waited for darkness to fall. Although my dad was out of town for the holiday (so sad),
Kayley
and Scott were here trying to find Kayley a job so they can move here sooner which was so fun! Also joining us for dinner were some of Scott's family and Grammy too.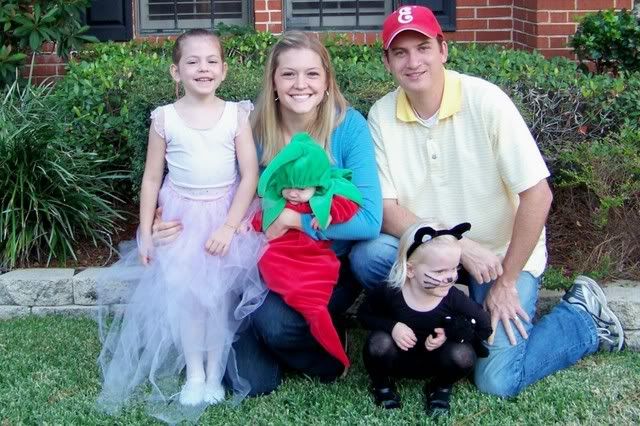 It's amazingly hard to get a picture of all 3 kids smiling, or even just looking, at the camera. I'm keeping my fingers crossed for our photo shoot with
Janna
this weekend. We will be bringing lots of bribes for Addie!
(I swear Preston knows he looks like a chili pepper -
he
always
smiles for me and I was unable to get even one smiling picture of him in his costume!)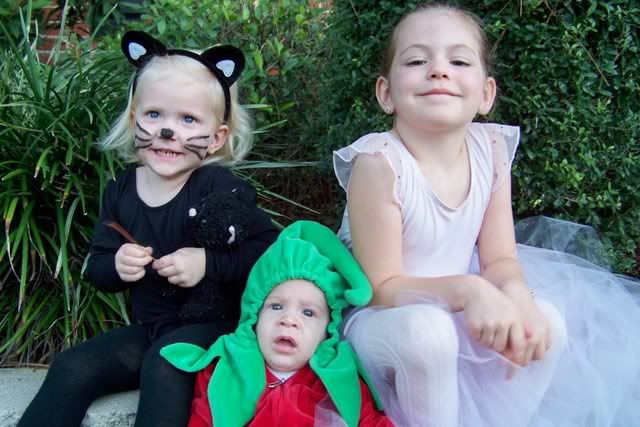 | | |
| --- | --- |
| | |
Our small contribution to the dinner...
Mummy Dogs
(with eyes by Hope).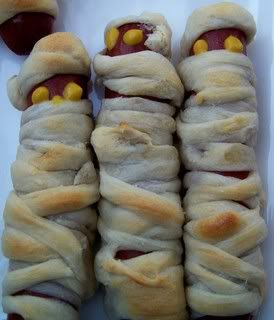 We tucked Preston in bed (one of the many,
many
perks of trick or treating at my parents'...I could also mention not needing to buy candy to pass out, Mike and I BOTH being able to go with the girls, a yummy dinner and fun with family)
and
Finally
! Let the trick or treating begin!!!
Our first stop is always my parents' sweet neighbor Julie's house - it's great practice! Addie broke her pumpkin as we walked over to their house though. Luckily we were at Nana's, and not at home, and she ran back inside to find an even cuter replacement bag to use the rest of the night.
Their son Kyle walked out while we were there dressed as quite the caveman! Another neighbor had a real black cat, which we all thought was much more exciting than Addie did.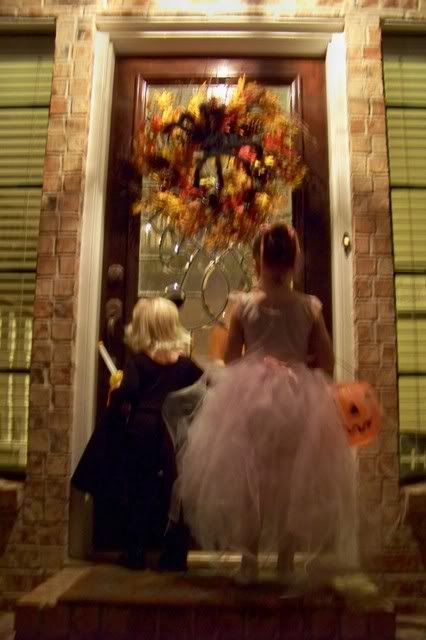 I thought of
Chrissy
and Zach when we saw this pumpkin...they'll have to make their own next year.
Addie took her role as a cat very seriously. She was hilarious walking like a cat and following her shadow. The only problem with her cat walk was that it was
really
slow!
Ella taking a little rest before heading to the next house. She tripped and fell on a walkway and skinned her knee and hand. She was mildly upset and quickly recovered until we were under the light of the next porch and she saw that her hand was bleeding. She wanted to go home immediately after that...the power of the mind is amazing :-).
Addie was a master at getting candy. She would either keep standing there after receiving her first helping until the person at the door gave her more or she would happily grab a handful more before the unsuspecting home owner knew what happened. No one cared of course, she was a cute little black cat with white fluffy hair after all, and they usually offered even more after that!