I'm pretty excited that I passed the 100,000 hit mark on my blog! (even though
at least
50,000 are from me and Ella :-)
Here is a random assortment of pictures around the house last week and weekend...
Thursday we went to eat lunch with Ella.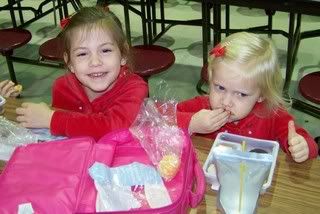 Later that day Mike was working and I needed to go get Ella from the bus stop and Addie and Preston were both awake (usually he is sleeping). I put him in his exersaucer and had Addie watching a show so I knew they would both be safe for the few minutes I went down to meet Ella. When we walked back in the house Preston's exersaucer wasn't where I left it and I got nervous. I yelled, "Addie, where's Preston?" and she answered, "By the TV!" She had pushed him over so he could see and piled him with toys.
Our cute (and drooly) little explorer...watching him get down from the positions he gets in is pretty funny, although he is getting better.

Friday was a half day for Ella, so we headed over to the library that afternoon. It had been a few weeks since we had been and we were all missing seeing our favorite librarians. They couldn't believe how much Preston had changed since the week before Thanksgiving!
And Saturday morning Preston woke up in quite a predicament. I was so mean and left to get the camera...being starving after a long night of sleep and having a very full diaper, he definitely didn't appreciate it. Luckily, Ella was able to assist me so he could start is breakfast while I dealt with his other "issues".
Saturday Mike was working all day, so we decided to head over to the mall with my mom and pick up our last gifts for people. We should have considered that maybe the busiest holiday shopping day of the year is not the ideal time to go, but we had fun. The girls love to see the animals outside the rainforest cafe.
Now there only 3 more days until Christmas...CRAZY!!! I'm so excited :-)!