We started Christmas Eve with breakfast at McDonald's
...because if our girls could pick
anywhere
in the world to eat at
any
time on
any
day, they would pick McDonald's :-).
Ella and Addie (but especially Ella) were SOOO excited that it was FINALLY Christmas Eve!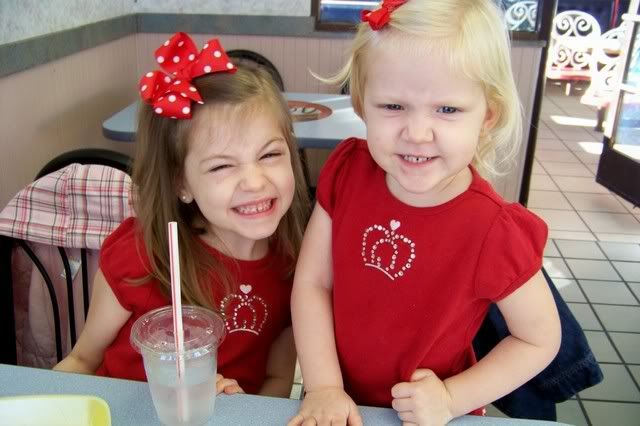 Then off to run some errands for last minute presents (I still don't have things pulled together since having Preston, I swear!). We got out some wiggles at the mall playground and had the place completely to ourselves which was so fun.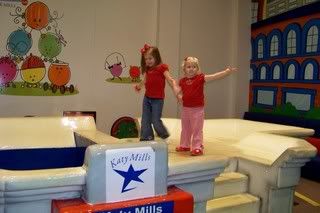 Preston has started climbing up stairs and walking along the coffee table now too. He is always on the go :-) and loved having a new place to explore. Ella was
thrilled
to take him on his first ride down the slide.
We made a gingerbread house while Preston took a nap and it kept falling apart (I have no idea how to make these darn things, even with the kit) so we let the girls eat it right away...no complaints from them :-). That's all Addie wanted to do the whole time anyway.

Not too much later it was time to head out to Grammy and Greatfrog's for our Christmas Eve dinner and gift exchange. It didn't take Ella long to find which presents were hers. She couldn't wait to open her first presents of Christmas!
Kayley
painted Preston a cute baby's first Christmas ornament...thanks LeeLee!
The table looked beautiful of course (some of the following pictures are courtesy of Cheryl) and we had our traditional poppers, which is why we are all sporting such gorgeous crowns during dinner :-). Ella was excited to find a magnifying glass in hers.

(Addie was exhausted by the time we arrived. She fell asleep on the way to their house and we could not get her to wake up.)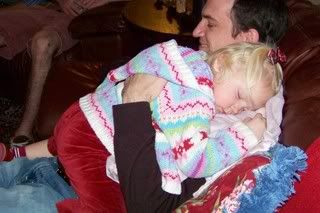 Yummy
dinner...prime rib with homemade horseradish sauce, yorkshire pudding, mashed potatoes, creamed corn, 24 hour salad, my
mom
's homemade rolls...see why I gained 10 lbs. over the break :-)!...and this was just the FIRST meal of the holiday!
Uncle Scotto kept Ella company while the rest of us finished eating...and rocked his crown too I might add :-)!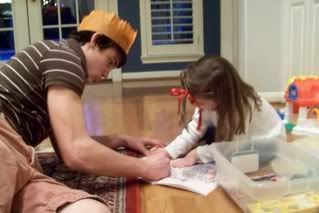 I cannot get a clear picture of my parents for the life of me...and this one would have been so cute!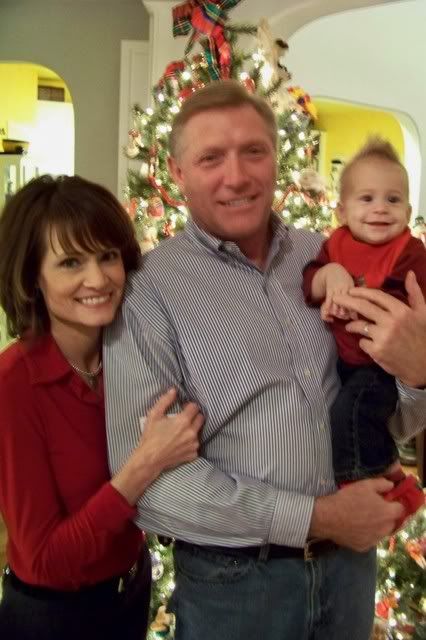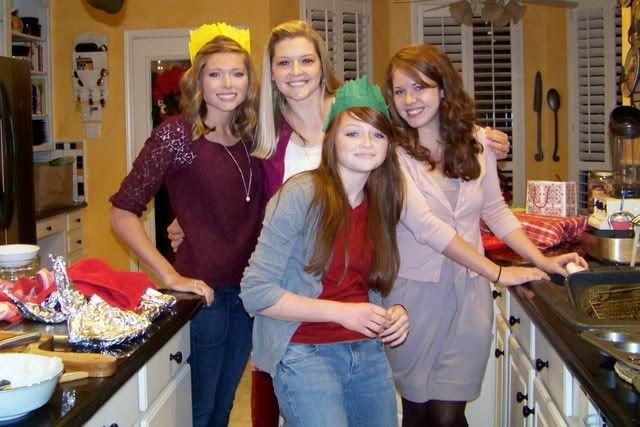 And the moment Ella waited so patiently for...present opening!!!
The girls were spoiled rotten by everyone (even Cheryl's parents sent gifts for the kiddos! so sweet)...We could have ended Christmas right then and they would have been completely happy!
I love this aerial shot Cheryl got of the madness :-)!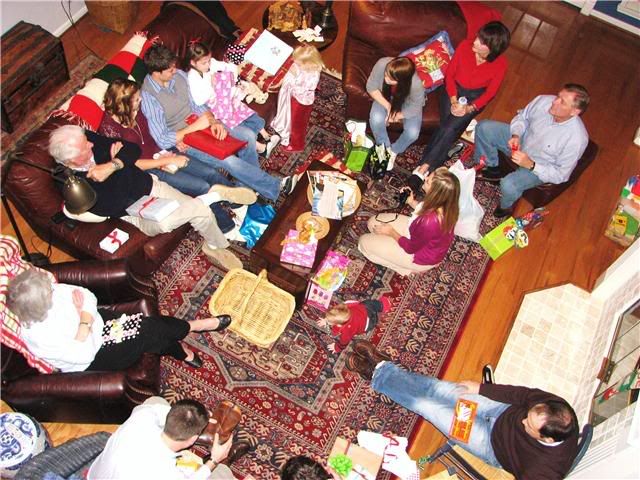 Preston's first Christmas present EVER...what a moment!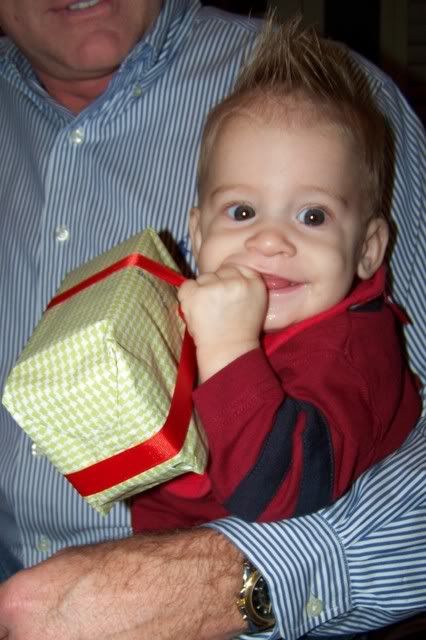 Scott and Kayley both were given gifts inside these little traps (completely unknowingly by different people I might add) and we all had a good time watching them concentrate and try to figure it out :-).

My parents were on a mission to find a Princess Tiana doll for Ella (and even had friends in other states checking their stores) without success, but Ella was just as happy with Mulan and was ecstatic about the book.

Do you think Ella was excited about her very own make-up bag from Mack and Cheryl?! :-) She even slept with it that night and when you watch the video of Christmas morning she comes running in holding it still.
I didn't get a good picture, but Addie has been playing non-stop with the Littlest Pet Shops she got from Grammy and Greatfrog (and some from Kayley and Scott too)!

Hooray for a bath towel for Preston from Nana!!! We have been in desperate need of a real one and this monkey one is ADORABLE!!!
(I know Preston was thrilled too :-)

I LOVE LOVE LOVE my present from Cheryl!!!! 3 Mix CDs she made (and I love her taste in music) and these 3 prints!!! I commented about how I loved this print she made when she posted it on her blog awhile back. She remembered and made me these cute ones for our house. I can't wait to figure out where to put them once we get all the Christmas decorations put away!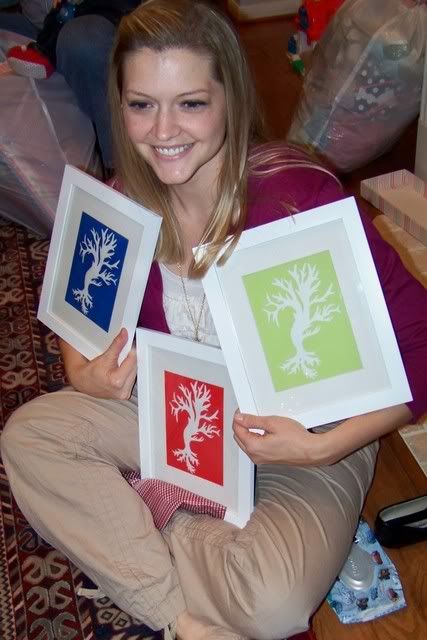 We sure are going to miss Mack when he is gone next year!!! (we're hoping Cheryl will still come visit us!)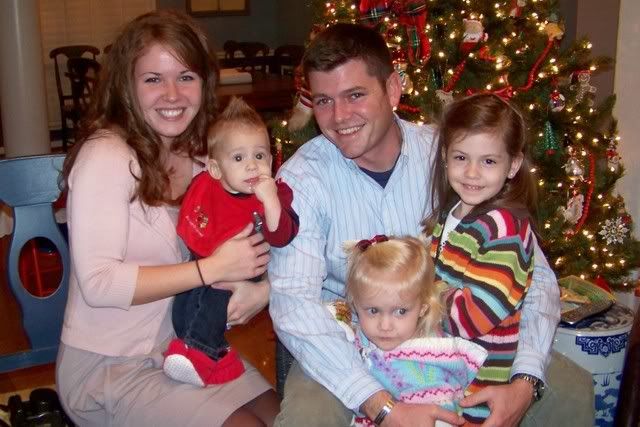 We hung out a little while after all the presents and then had to head back home to do our little family traditions.
We drove and looked at Christmas lights one last time (one of our favorite holiday activities), opened one Christmas present (new festive jammies), read the Christmas story in Luke and put out our cookies and carrots for Santa and the reindeer.
What a day :-)!!!
(I love how excited Ella is in these pictures again...she looked just the same in
last year
's Christmas Eve pictures)