Mike returned home from driving to and from CA Tuesday around 7pm. We waited for
Kayley
and Scott to arrive from Dallas (they had to work a full day, then drive the 4 hours here), loaded up and headed out to FL around 11pm. We kept the luggage out of the back of our car so we could keep the back seat folded down as a bed which was SO nice. We were able to take turns getting actual sleep all stretched out and the kids slept well in the car seats in the middle row. When morning arrived we were about half way there and stopped to stretch and load up some breakfast.
| | |
| --- | --- |
| | |
We finally got into St. Augustine around 3:30pm to drop Kayley and Scott off at the beach house where our family was staying and then we had to get right back in the car and drive 2 more hours to our hotel in Orlando. When we finally arrived we were ECSTATIC!!! We ate dinner, took baths and got in bed nice and early to be prepared for our big day at Disney.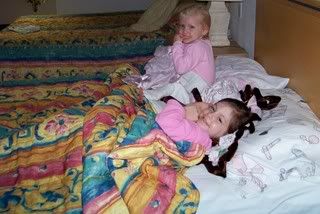 Finally, we arrived!!! We took the ferry over to the park which was an exciting, but chilly, start to the day. And then rushed over to our first ride...Aladdin's Magic Carpets. (we used
Ridemax
again for this trip and I am a big believer that it is well worth the money, especially when you are trying to maximize your time in one day like we were)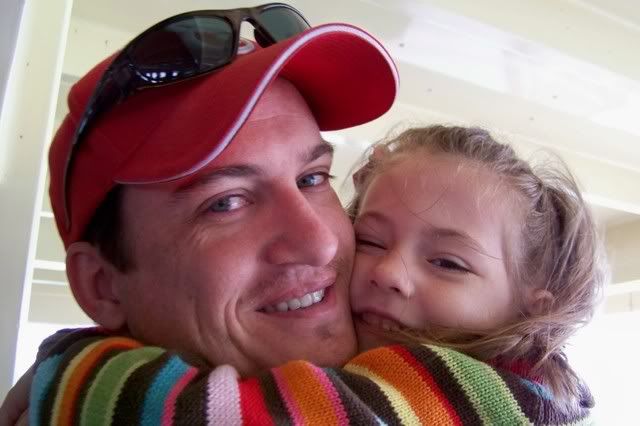 | | |
| --- | --- |
| | |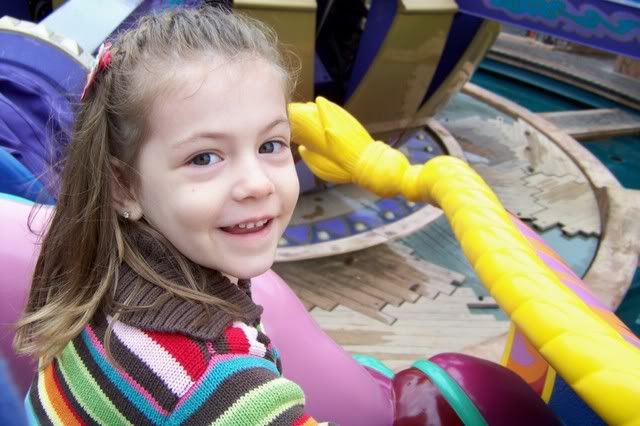 | | |
| --- | --- |
| | |
| | |
| --- | --- |
| | |
| | |
| --- | --- |
| | |
| | |
| --- | --- |
| | |
After a morning of rides and catching a showing of Mickey's PhilharMagic (which was one of the surprise hits of our trip - Ella LOVED it), we picked up some lunch and went to Belle's Storytime (if you missed Mike's performance as the Beast, click
here
). Addie did not want anyone to touch her autograph book, except herself, and she colored dutifully away in it all afternoon. Ella, on the other hand kept a running tally of how many signatures she had collected.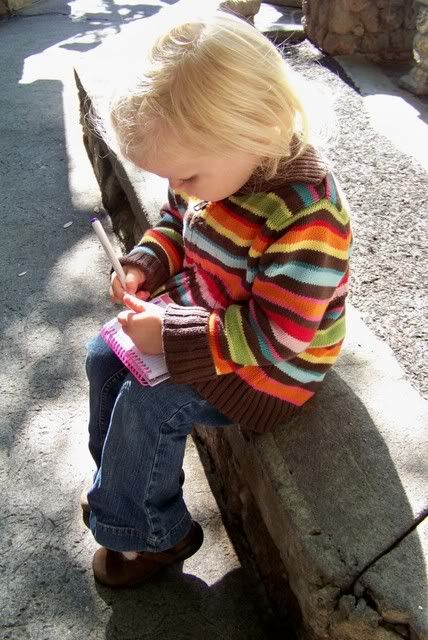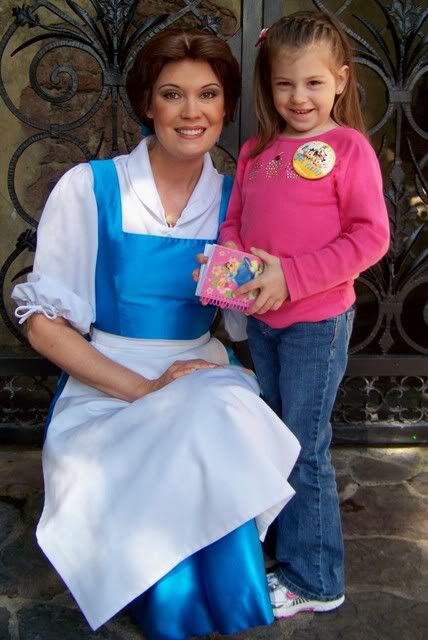 We caught one of the day time parades on our way over to the Country Bear Jamboree (one thing we could have skipped - no one loved it). I braid the girls' hair like this quite often and have never really had anyone comment on it to me, but I had more moms ask me about it at Disney World...I'm hoping I've started a new trend :-).
| | |
| --- | --- |
| | |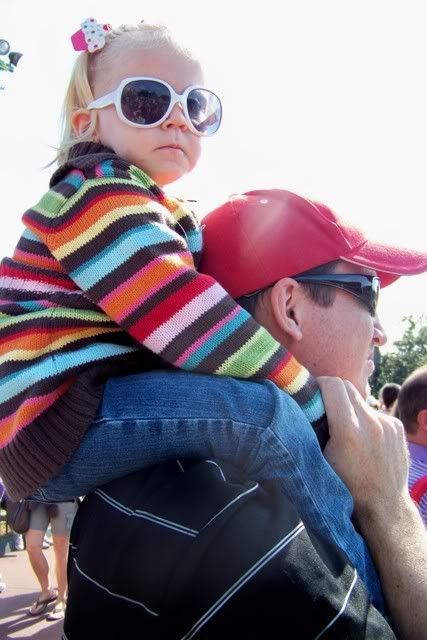 | | |
| --- | --- |
| | |
| | |
| --- | --- |
| | |
We waited in line for an hour to meet some princesses...it made me really sad that the Princess breakfast didn't work out (I waited too long to call and make the reservations and it was all booked), but since Addie wouldn't let anyone sign her book anyway, I felt better about it :-)

Even Preston enjoyed meeting the princesses...especially Cinderella...she was definitely his favorite :-)!

Proof that there is a princess for everyone though, Addie finally warmed up to Aurora, check out her little expression :-)!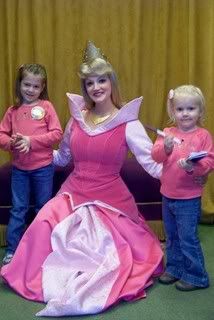 Preston was able to go on pretty much every ride with us! He and I skipped the carousel because I was trying to get him to take a nap (unsuccessfully) and I was worried the tea cups may be a little much for him, but other than that he was right there with us trying to take it all in. He was a trooper as usual. With only 2 20 minute naps, he smiled away.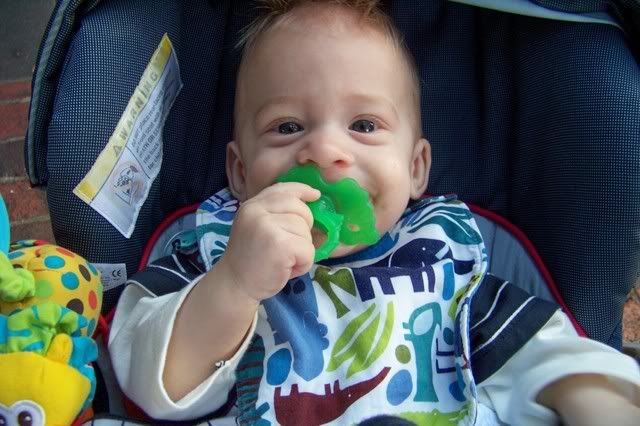 This is what Preston looked like the whole day...spit-up on his face and eyes open wide in amazement :-).

A nice man took some pictures of our whole family for us.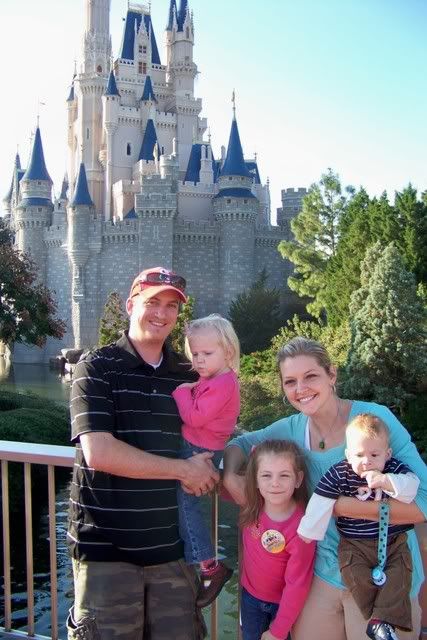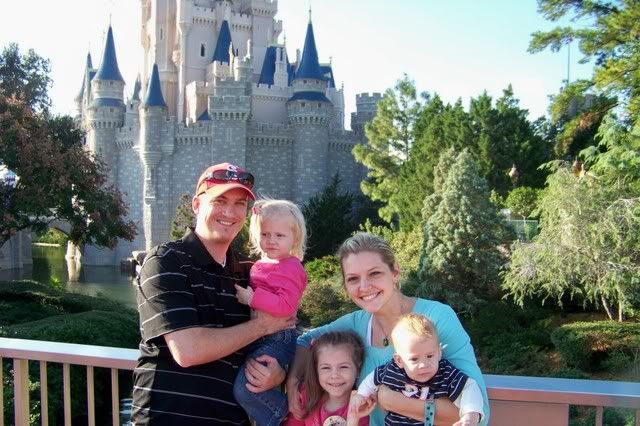 Next up on the agenda...the Dream Along with Mickey show.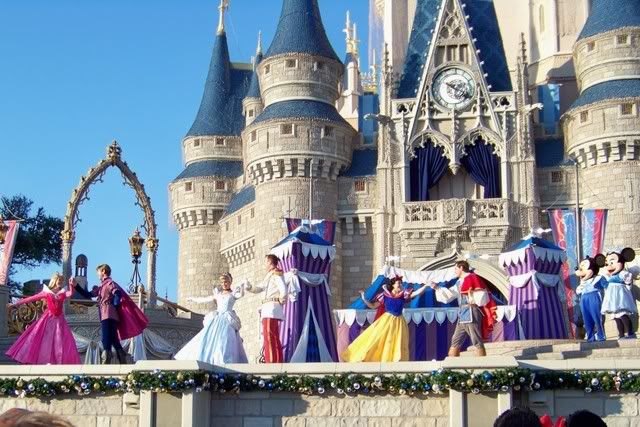 We waited in line for a long time for Dumbo, but Ella really wanted to go on it. Time for a Dumbo fast pass Disney World! Then off to meet Ariel.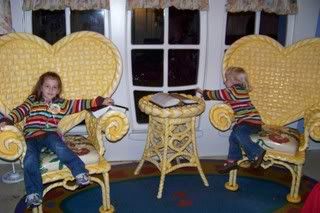 The one ride we didn't get to go on that I was bummed about was Buzz Lightyear. When we went with our fast passes earlier in the evening they had temporarily closed it for some reason so when we went back at nearly 8pm, the fast pass line was long and we were all pretty tired so we went to find spots for the Spectromagic parade instead. The girls were beat, but I knew they would love it if they could hang on and they barely made it...and promptly fell asleep on the way back to the car.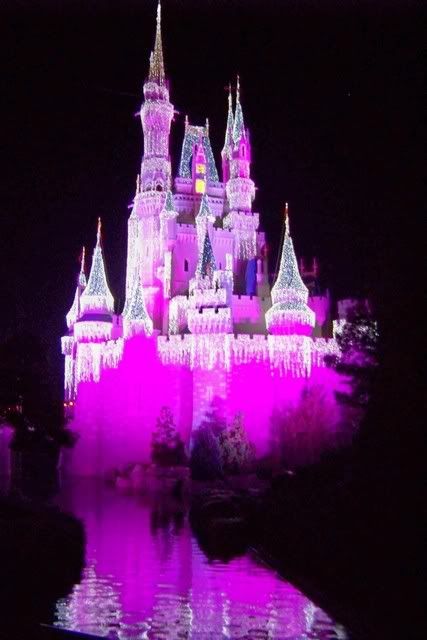 Mike got this shot and I really liked how it not only showed the decorations and castle but ALL the people too.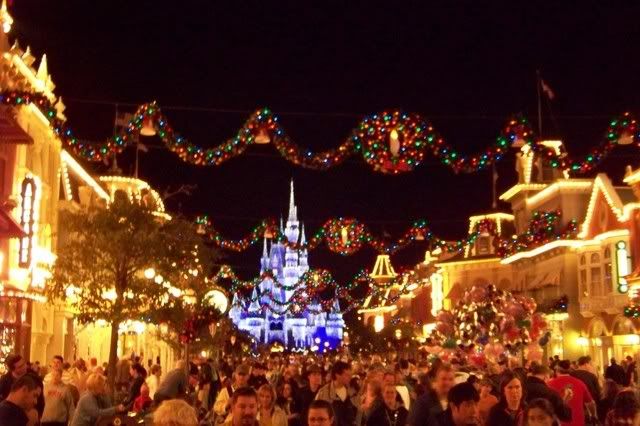 Everyone was thoroughly exhausted that night...except Preston. He was awake the whole parade, on the ferry ride back to the parking lot, on the walk to the car, on the drive to the hotel and then lay in bed laughing instead of going to sleep. The girls were OUT. That's what a day at the most magical place on earth can do to you.