We spent last week recuperating, catching up and preparing for Christmas. I feel like we are just now getting back on track...just in time for more holiday traveling :-). There is no time of year like Christmas time though so we are trying to enjoy every minute of it!
(and our cards are ready to go...addressed, return address labels on them, sealed...but NO stamps! Our post office was out of the cute ones so I decided I would just order them online, but they still haven't even shipped yet! I'm calling tomorrow to see if I can just cancel the order and go buy whichever ones the post office has...I just want to MAIL them!)
Playing with the nativity is always a favorite activity. One of these years I'll break down and by the cute
Little People
set, but until then, the real one does the trick.
| | |
| --- | --- |
| | |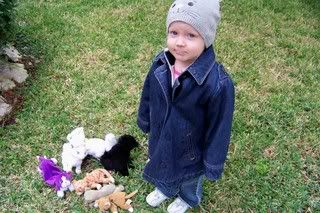 We put up some lights outside and have logged plenty of miles driving around admiring others' lights and getting ideas for next year. The girls love to admire the lights from their window...and of course their little pink tree which they decorated (and re-decorate) with no help from me.
I love catching them staring at all the fun Christmas decorations or rearranging them...usually rearranging them :-).

The weather got progressively colder last week (resulting in
SNOW
on Friday of course) and I must say little babies in cozy sleeper suits are pretty irresistible!
And Addie and Livy being little buddies.