With the first day over, it's only going to get better from here on out!
Ella was definitely nervous, but excited to start her day. Grammy came to watch Addie and Preston for me so I could walk Ella to her classroom the first day. She was very shy and quiet when we got there, but still managed to smile for some pictures. I was one of the last parents to leave the room and when I told her I was going to go and gave her a hug. She looked up and said, "But I want a kiss too!" I am happy to report that all went well and her only disappointments of the day were learning that in 1st grade you only get 1 recess and no snack time. She said she liked both of her teachers
(one a little bit more, but they were both nice)
, she gets to go to the computer lab on Friday and she is
really
excited for that, she got to see her friends that aren't in her class at recess and played with them, and Parker
(who was in her class last year and sits across from her this year)
kept saying funny things all day :-). She was also glad she didn't have any homework yet; although at the end of last year the thing she most excited about for 1st grade was the prospect of having homework. We know this will be another great year!
Getting her pose on before leaving for the school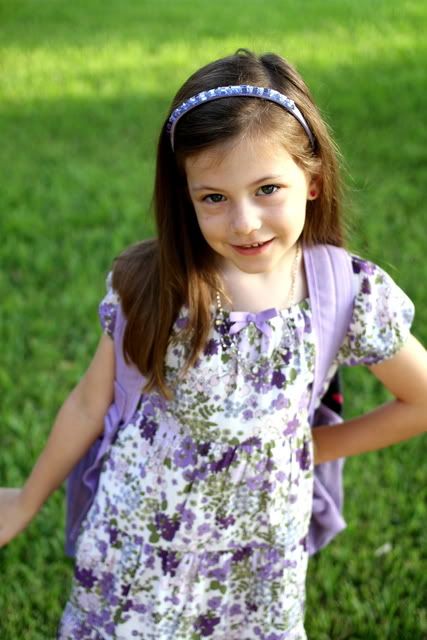 Walking up to the school
Settling into her desk

(she is really excited that they have little cubbies under the desk to keep things in this year instead of plain tables)
Catching up with friends after a long summer
Peyton, Shea, Ella, Alli
Ella, Jocelyn, Luna
(these friends sit at her little group of desks)
and me nervously walking away as the teacher gets things started
When I got home Preston started actually riding our little Pooh car...pretty exciting stuff!
After getting some things done around the house, and getting Addie and Preston dressed we met up with some friends for lunch at a new Soul Food restaurant. The food was definitely cooked up fresh when you ordered it...it took forever...but, it
was
super delicious! Luckily, one wall of the restaurant was lined with mirrors, keeping Addie entertained the
entire
time we were in there (1 1/2 hours)...she watched herself play, eat, make faces, etc. And Preston ate tons there...a whole cornbread muffin, fried chicken, sweet potato fries, mashed potatoes, and black eyed peas!
Before we knew it, it was already time to go outside to wait for the bus. Addie is just so dang cute! After I took her picture she wanted to see them and was sad I didn't "make a movie," so then we did that too.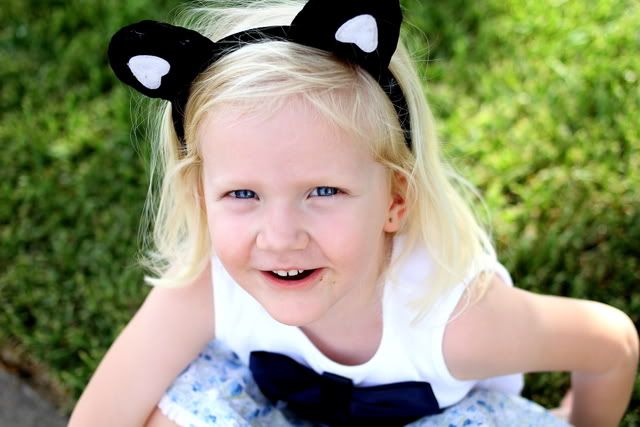 Finally we heard the bus rounding the corner
(it was HOT waiting out there!).
Ella's already special day ended with more fun surprises...
special treats from
Nana
and a birthday card from Aunt Cheryl and Uncle Mack
(with money inside!)
. Ella was sooo excited about it all.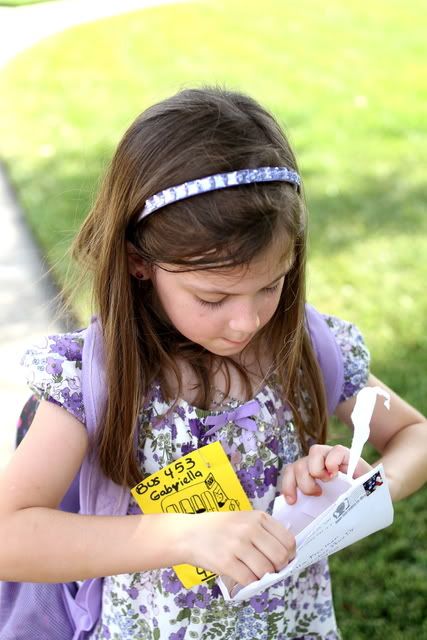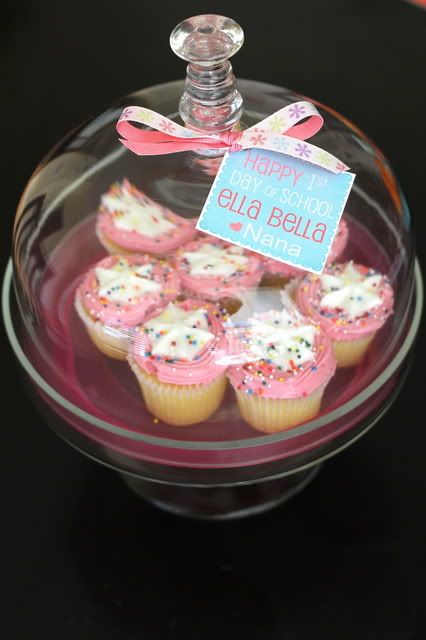 Unfortunately, little Adeline's day didn't end so well.
She was skipping along on our way back from the bus stop and tripped on the sidewalk, skinning one of her knees pretty badly. She cried for a band-aid beginning the instant it happened and as soon I put them on her after cleaning her knee off she stopped...kids are so funny about band-aids, they are definitely magical healing devices :-). They are looking better today and Addie thinks it's pretty cool to get to wear band-aids
again
!