I've just got to get caught up on the blog, so this random combination of Saturday and Sunday pictures are the result. I've dropped Ella off at school and I'm letting Preston and Addie play and watch Sesame Street while I get up to date so we can start the week with a bang!
Saturday both girls had birthday parties to go to, unfortunately they weren't at the same time
(which would have made less driving for me :-)
, but it was fun that they each had their own special event for the day. For Addie's party she was told to dress in costume and no surprise here, she wanted to be a princess cat, "with a nose and whiskers".
(I actually found the perfect Halloween costume for her here, but haven't ordered anything as of yet)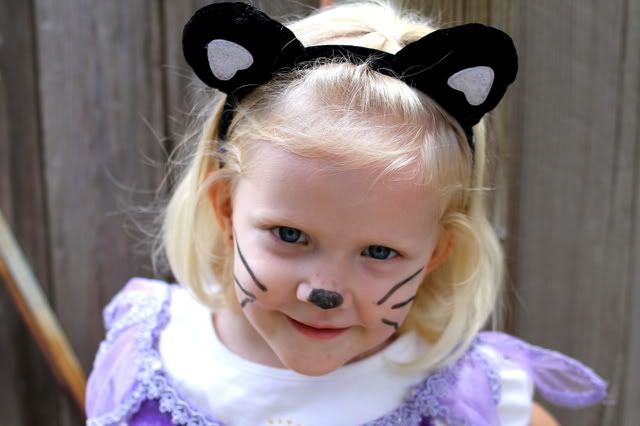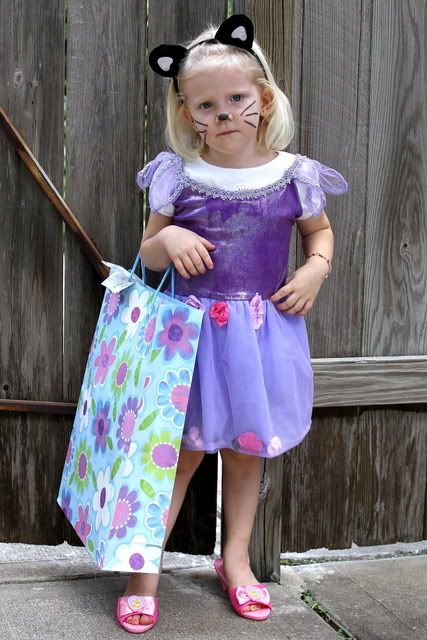 I continue to try and get Preston to eat more, but with little progress. One thing is for sure, he loves to play with his food...and he does seem to be eating a
little
bit more.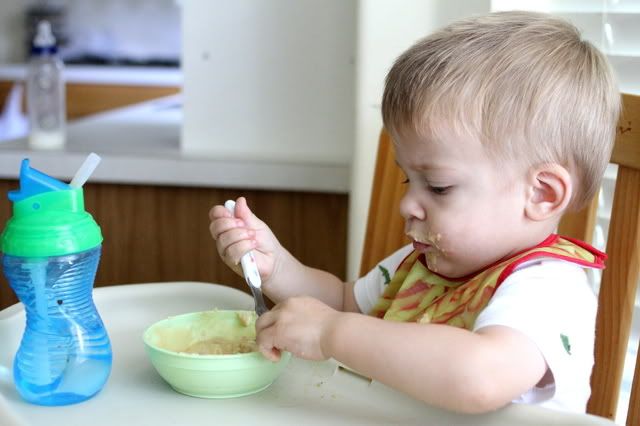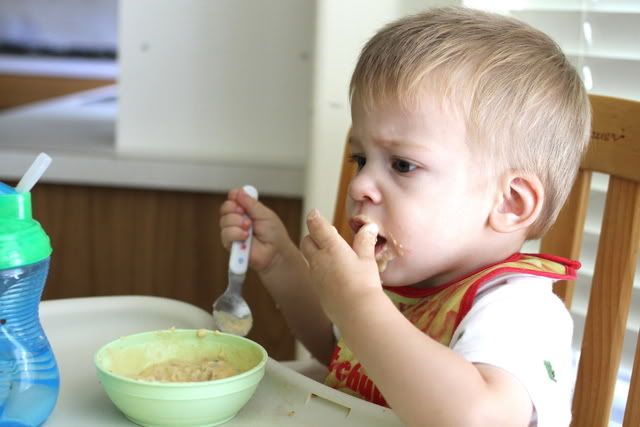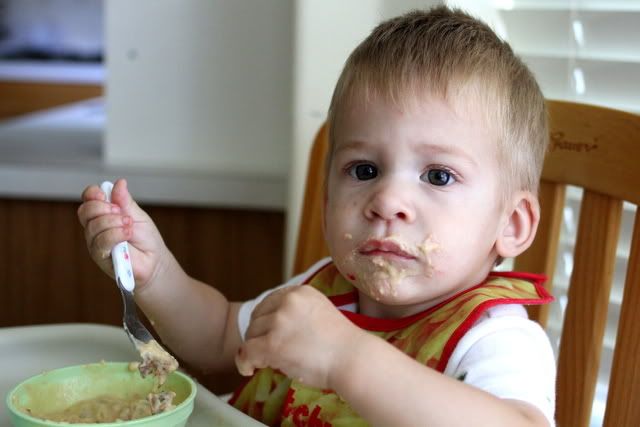 Preston has yet another weird rash. I noticed some red bumps on Friday, but he also had bug bites from playing outside, so I didn't think anything of it. Then on Saturday one of them became a weird blister. It took all my self control to leave it alone, but I did, and after his nap it was broken. I've been putting neosporin on them as they heal and no new ones today, so hopefully we're on the road to recovery. In the mean time I've been bathing him separately from the girls because I remember hearing about a weird rash that sounded similar to this that is spread through water. I'll be glad when I can stick all 3 in the tub together...it is much easier and takes much less time :-)!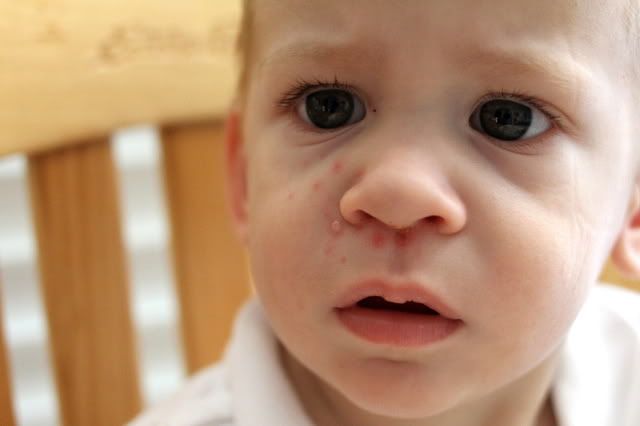 Sunday Mike had to give another talk in church
(he just gave one a couple months ago)
, so they better be counting this one as my talk for the next year! Gymboree had these SUPER cute little animal backpacks and lunchboxes recently and I
had
to get Addie the cat ones! After a couple rough weeks at church with Preston I decided he was definitely in need of his own little bag of activities and snacks too and went and got him the lion backpack. He thinks he's pretty big with his backpack on! And we had our best sacrament meeting ever yesterday, so it definitely seems to have helped. This means no more bag for Ella
(she's getting so big!)
and the girls are going to use their other little backpacks as their dance bags this year.
(getting a picture of these 2 both facing the other way and in somewhat the same general area was very tricky)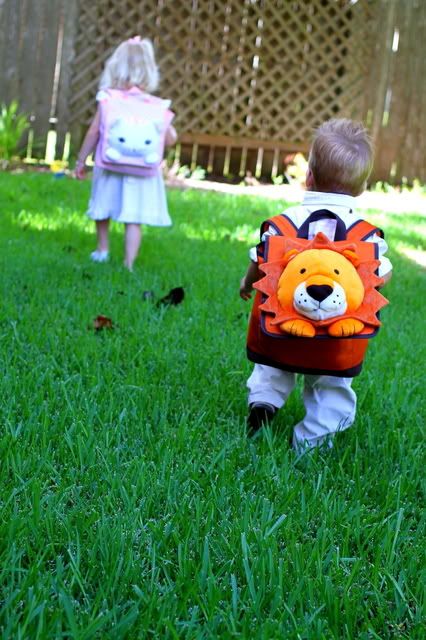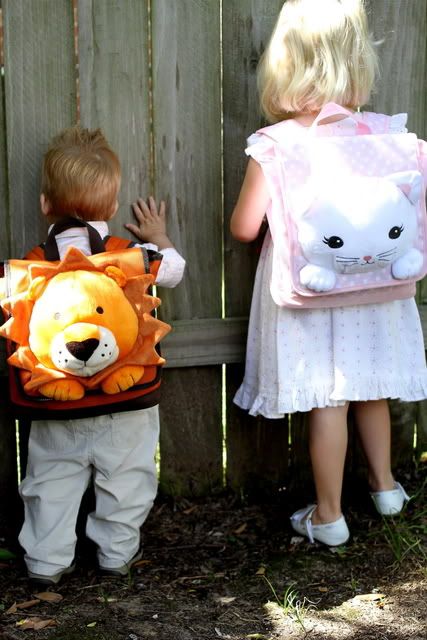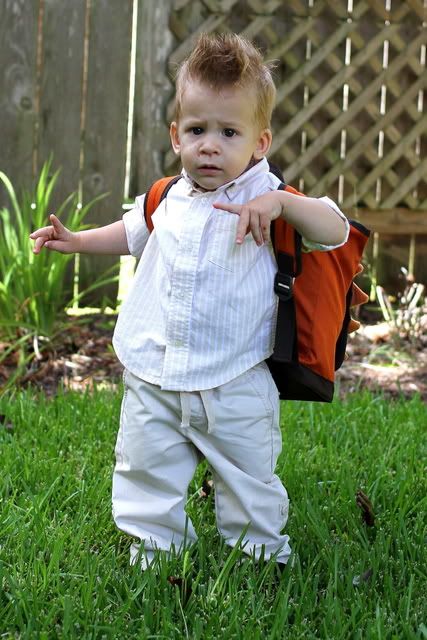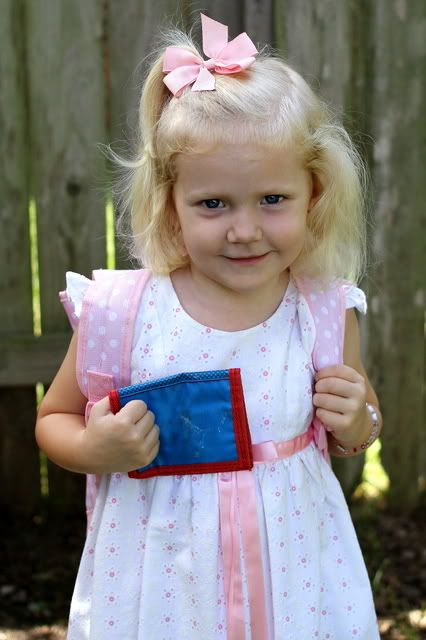 And lastly our "Back to School Fancy Dinner".
I'm all for giving credit where it is due, and this is one of the cute things I remember seeing on NieNie's blog when I first found out about her after her accident. I don't remember everything about hers, but I do remember hers was
much
cuter! Ours was just thrown together a bit, but the girls definitely had fun making the decorations and I'm excited to have a new tradition for our family. Ella picked spaghetti for the dinner
(we made the Basic Marinara Sauce Michele posted that I love)
and then we made a special dessert,
Strawberry Layer Cake
. Ella also picked our centerpiece, a fairy garden she made at her friend Megan's birthday party on Thursday, so we kind of went with the garden theme :-). At dinner we each talked about our goals for the school year and I'm going to post them in our pantry to help us remember them. We ended the night with baths and a father's blessing for Ella Bella.
Ella's goals

:
To make a new friend.
Get better at spelling.
Addie's goal

:
Be nice to my friends.
(directions for pom-poms here)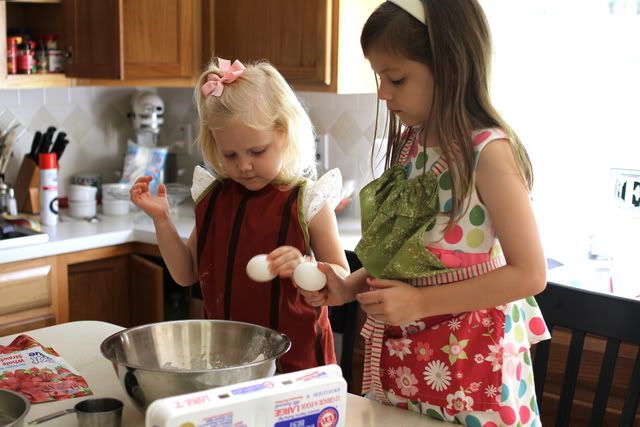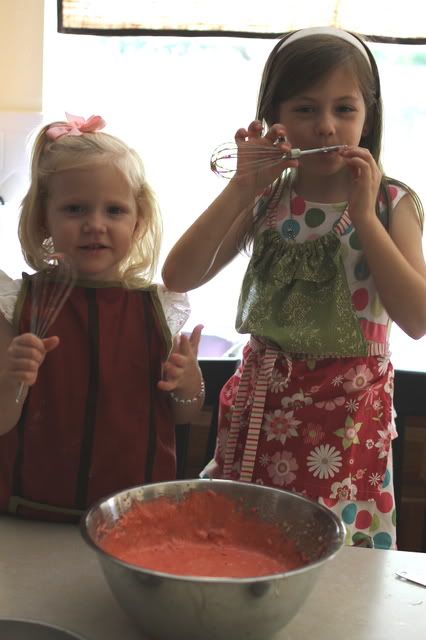 | | |
| --- | --- |
| | |