I have been the worst friend about meeting new babies this summer! I finally met
Allie
's little Weston on Friday when we all got together for lunch and Mckell made her new
tortilla soup
recipe
(I made it a couple days before for our dinner...it's

super

yummy)
. Oh, and Weston is 4 1/2 months old...see told you, bad friend! In my defense, they were out of town for 2 of the months :-). Preston was actually pretty interested in Weston and when he found one of Livy's pacifiers
(which are the same MAM ones he used)
he just tried to put it in Weston's mouth...he didn't put it in his! I was pretty surprised that he seemed to have already forgotten completely about them. So much for love :-).
Near the end of our visiting we attempted to get the kids together for a picture. Jace has a history of being scared of me taking his picture and getting Preston to stay anywhere for more than a few seconds is always a challenge. Luckily Addie and Livy are all for hamming it up and Weston doesn't have much choice in the matter when it comes to where he is or what he can do.
(oh, and Addie did come to the house with shorts on, promise)
take 1
take 2
take 3

(Jace agreed to join in if he could make a silly face...Addie was all for that!)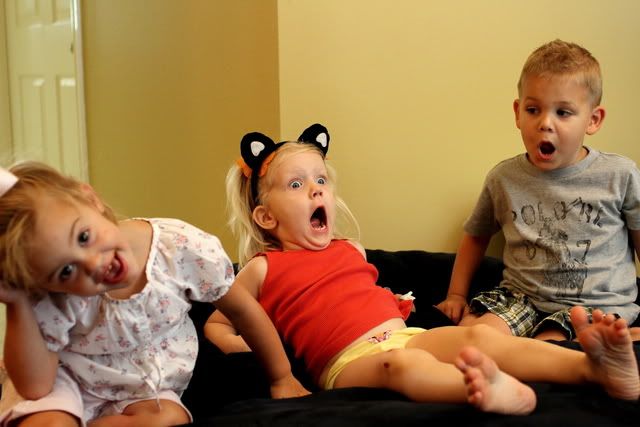 take 4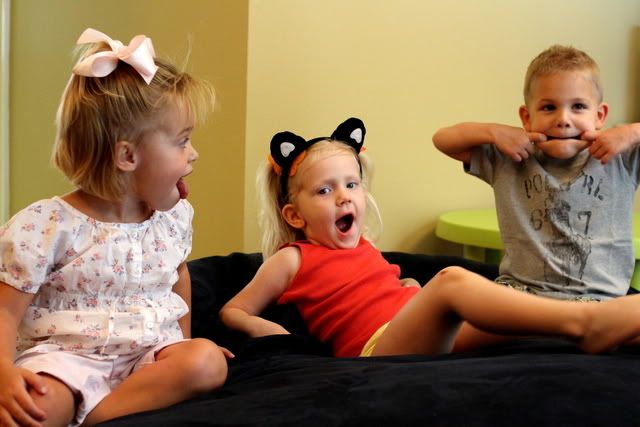 take 5

(and then we called it quits)
| | |
| --- | --- |
| | |
| | |
| --- | --- |
| | |
Preston fell asleep almost instantly when we started driving home.