Ella's family birthday celebration was on Sunday afternoon and she was really excited for it. She helped pick out the
menu
and what she wanted to wear, but most of all she was excited to open more presents :-). She's a pretty lucky girl to have so many people who love her so much...and even more lucky that they all live close enough to come and celebrate with her!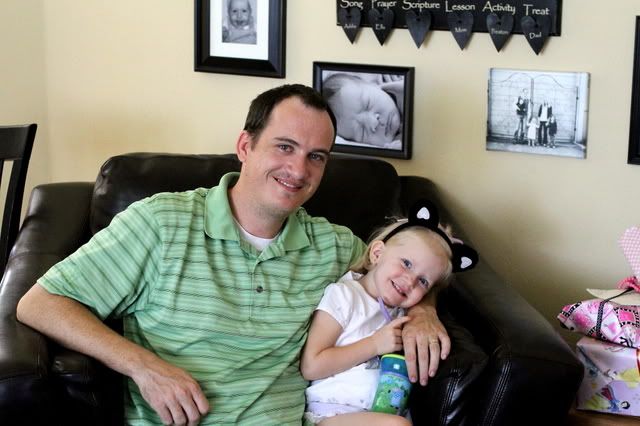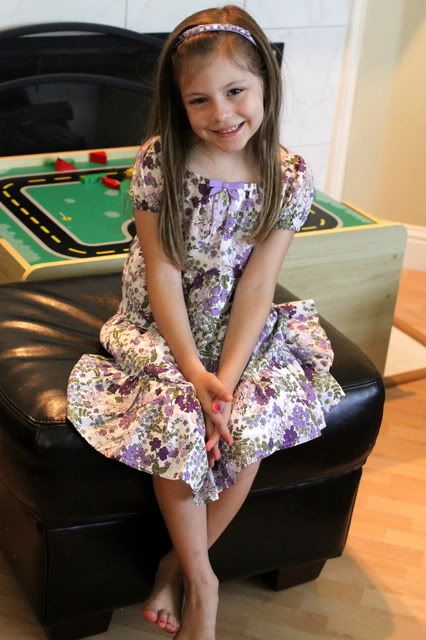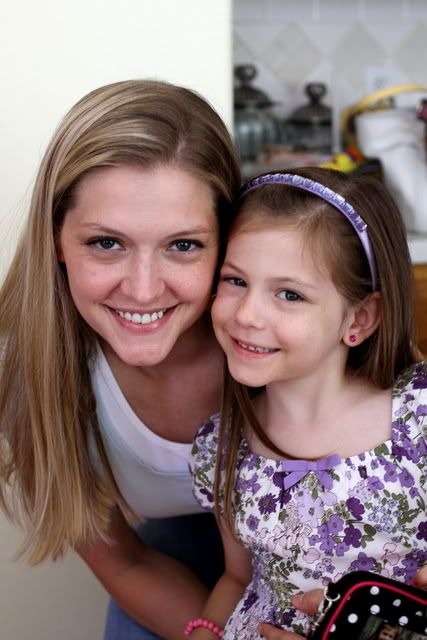 Between Nana & Grandad, Papa & Meema, and Aunt Kayley & Uncle Scott, Ella had all her Barbie wishes granted and couldn't be more happy about it! Grammy & Greatfrog's wallet and money were perfect since Ella recently started learning about earning and saving her money. She is so excited that she has enough to buy a Barbie DVD that she has been wanting and saving up for "forever."
And now all the birthday fun is over. Ella's birthday really snuck up on me this year and I cannot believe she is SIX years old!
Some things I want to remember about Ella at 6...
*She is still a great big sister! She and Addie have their moments of sisterly fighting, but overall get a long great. She almost always offers Addie and Preston anything she is having and loves to play with them. Ella loves to make Preston laugh and I love to hear her and Addie joking around and using their little imaginations to make their own fun.
*Ella's favorite foods include: spaghetti, macaroni and cheese, taco bell crispy beef tacos, chips and queso, strawberries, cuties (mini-oranges), and most other treats of course
(although she will happy just have a bite or two and save it for later - unlike Addie who downs everything)
.
*She thinks it's fun to copy other people...she'll color a picture exactly how Addie did it, or eat exactly the same number bites of something as Addie. Sometimes it drives me crazy and we try to reinforce what great ideas of her own she has, but hopefully it's just a silly phase.
*Ella is such a smart girl. As soon as she grasped the concept of reading she was off and reading any book that looked good to her. She loves to read to me and Mike and at night she often reads to Addie before they go to bed
(she tries to read to Preston, but he won't sit still for very long)
.
*She loves dogs, the colors blue and green and is all about picking out her own outfits. Sometimes I like the outfits and most of the time I don't, but I'm glad she has her own opinion on what to wear and how to have her hair...we'll just keep working on the matching :-).
*Although Ella is great at entertaining herself, she would watch shows on TV all day if I let her. Maybe it's because I limited TV/movies with her so much when she was little or maybe it's genetic
(Mike and I both love our shows too!)
, but either way, she
loves
it. Her current favorites, in addition to Disney movies, are Barbie movies
(which I have slowly warmed up to)
and Phineus and Ferb. I love to watch them with her and hear her little laugh and see what strikes her as funny. When we saw Despicable Me a few weeks ago she was laughing hysterically the whole time at the little minions
(sp?), super cute
!
*Ella has a great sense of humor. I can tell she is so proud of herself when she makes us laugh
(and she will then do/say the same thing over and over to get the same reaction :-)
.
I am so proud of what a sweet girl Ella has become. She is so talented and I can't wait to see what she decides to use those talents for. We are lucky to have her as our oldest. She helps me out sooo much and I know Addie and Preston love her as much as me and Mike do.
Happy Birthday Ella Bella!
(I just had to add Ella's 6 year statistics...
Height: 44.5 inches (25-50th%)
Weight: 42.5 lbs (50th%)
BMI: 15.0 (25-50th%))