Tuesday morning it was off to school for Addie
(in this little mermaid shirt that I picked up last time I worked because the mermaid looked like Addie, and because it was only $3. I thought Addie would love it, but she was quick to inform me that she likes to look like a cat, not a mermaid...silly me!).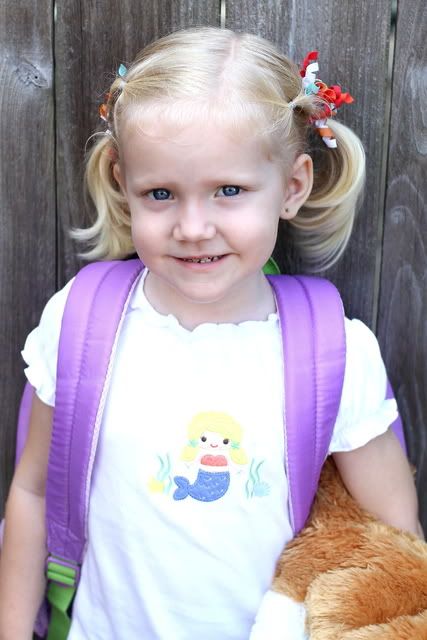 And Preston (who actually stood still for one minute for a picture) and I tried to go to his story time but were late so we just picked out books and said hi to the librarians instead.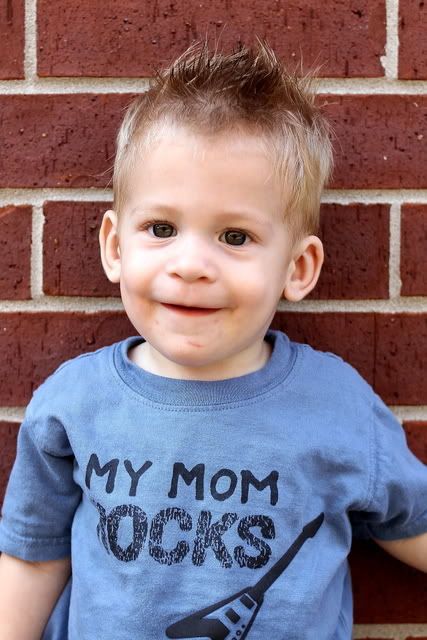 Miss Venitha helped him find a book about trains and he was excited to read it in the car :-).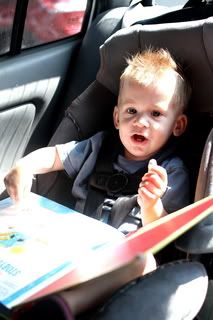 We picked up Addie from school and Hannah came to play for a little while. I made the girls stay downstairs so Preston could get a good nap in but let them bring a few things down. Addie picked the tea set and Hannah picked the drum full of instruments.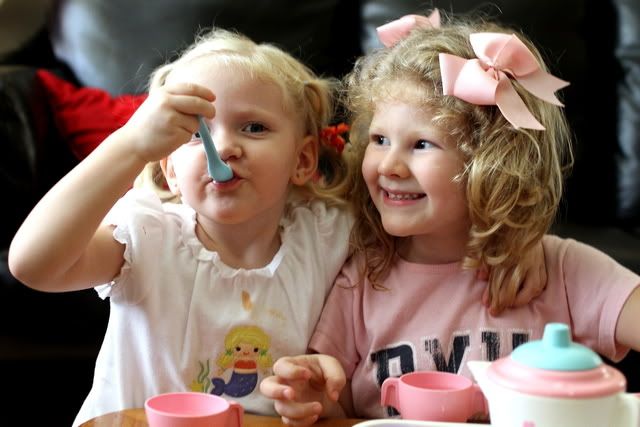 While waiting for Ella to come home, Addie colored and I cooked.
Addie colors the inside the folder periodically. The cats in it were some of the first ones she ever drew and I LOVE them! Now she draws them all the time. She'll draw a picture of a cat holding a cat balloon, next to a cat snowman with a cat cloud in the sky. She is definitely serious about this cat obsession!

Once Ella got back it was play time for a little while and then Addie's "other best friend"
(in addition to Nana, Bill and Blanco, and Ella who she now says is her 'first best friend'),
Ellie to arrive. Ellie and Addie actually play
with
each other and it is so adorable to listen to them talk and play!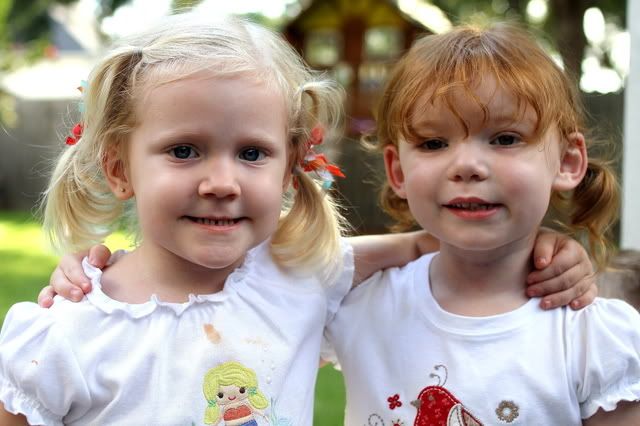 When the girls decided to play outside, Preston couldn't believe his luck! He ran right with them out there and turned around to look at me like, "Are you seeing this, mom?! People are going to play out here with me!!!"
(it's been too hot for me still)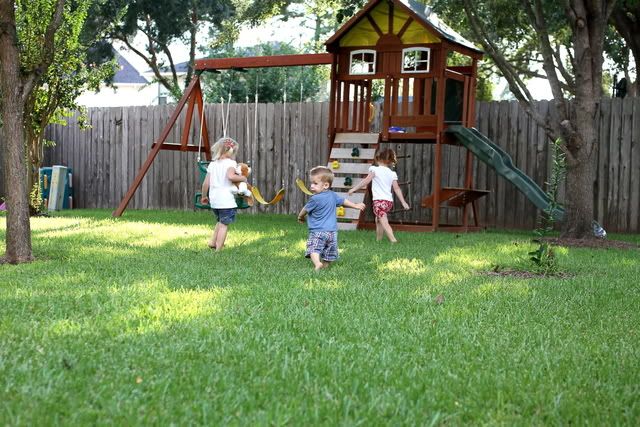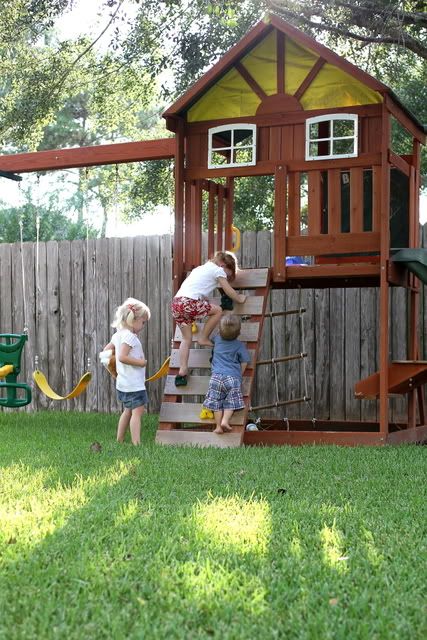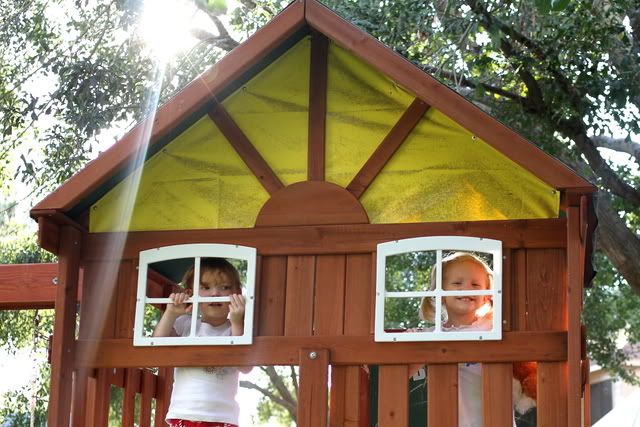 (in other news, Preston has mastered getting down from the swing set by himself so I'm way less nervous about him climbing into the house now. he prefers the slide, but will climb back down the "rock wall" too)
Ella gave up on doing her homework in the house and came outside to join the party.
(we bought her a school shirt and hair thing this year and she thinks she is pretty cool :-)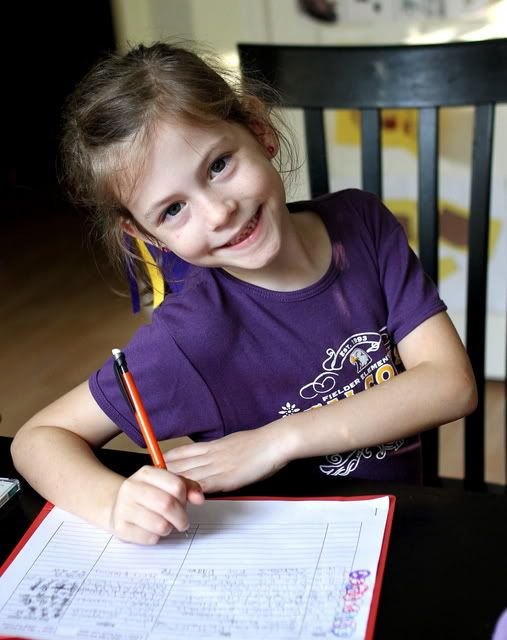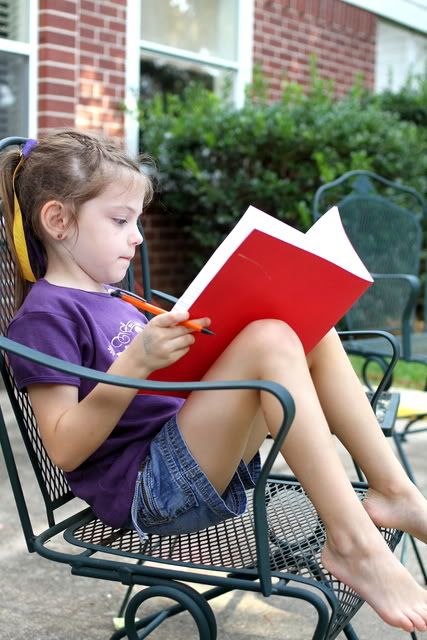 Ellie's mom, Katie, and I were briefly in the same ward in high school when my family lived in Dallas, so it's funny our little girlies are now playing together!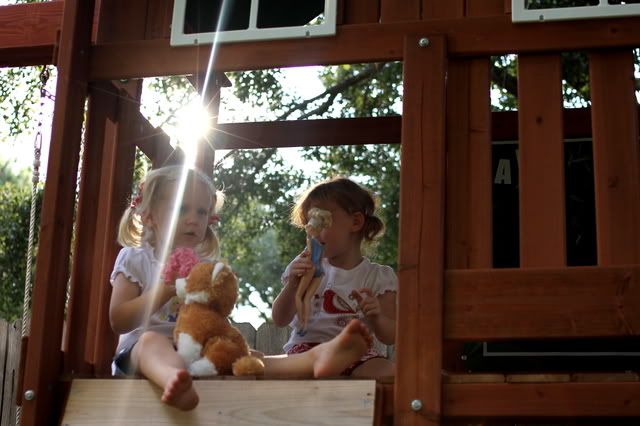 After everyone was ready for bed Ella read Addie and Ellie some stories. And then we called it a night
(for our girls anyway, Ellie hung out with Mike and I for awhile, her dad's a football coach so she is on a game night schedule)!
And after all that fun, guess what time Addie woke up the next morning? 6:10am! She much have expected Wednesday to be just as exciting :-).