Monday morning Addie, Preston and I headed off to run errands. First was a stop at Toys R Us to buy a new little picnic table. Our old one was a hand-me-down and the table top was cracked and getting worse so we got rid of it awhile ago, but I have missed it! With Joy School starting this week I couldn't wait any longer to get a new one. While picking it up we found a little stuffed cat that was on clearance so we bought it to be Addie's next reward to earn with her magnet chart.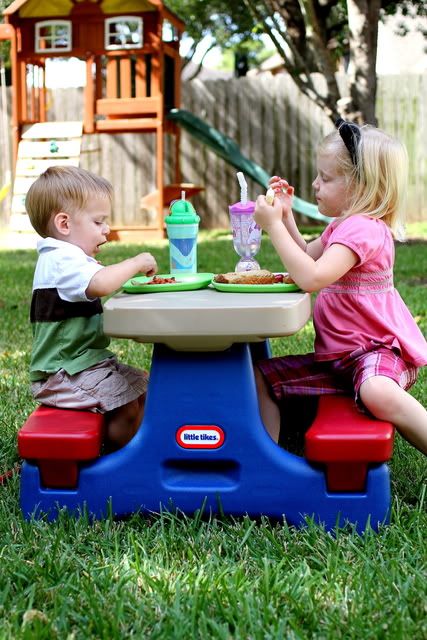 Then we headed across the street to Walmart to our weekly grocery shopping. The trip was going well at first, although Addie had been very whiny since being sick at the end of last week. Towards the end of shopping I had to have Addie walk with me because the cart was getting full. We got into line at a register that was towards the front, which meant that all the toys and magazines were a ways behind us near the back registers. I was unloading groceries onto the belt and looked up and didn't see Addie around me. I spotted her back by the little toys and told her to come back by me. She said no and I told her to come here again. When she ignored me I went back to get her quickly (around all the other people in line behind me) and when she saw me coming she starting screaming, and I mean a full-out LOUD Addie scream, and running away. I grabbed her and brought her up next to me again. She continued screaming and crying, yes SCREAMING, the entire time I unloaded groceries...the entire time the cashier scanned and bagged them...the entire time I paid. I didn't say anything to her, although I did smile at all the people who looked in our direction (and that was a lot).
She was one of those kids and I was one of those mothers.
I've had my fair share of embarrassing behavior from her and have called her my humbling child more than once (when talking about her, not to her), but this was hands down the worst ever.
We walked to the car in silence. I buckled her in and told her that it is not ok to act like that. We don't scream and cry and run away from mom
ever
, and especially not in the store. I told her I was embarrassed and upset and that we were taking the cat back. We drove back to Toys R Us. I made her put him back in the bag and we walked in and I made her hand him over to the cashier
(the same one who had helped us by it only an hour before)
. A crying Addie gave up the cat and we went home. I told her if she started acting nicely again we would go back and get it so she could earn it.
After lunch and getting Preston in bed we had a nice time coloring together but then after a while something else happened and she started flipping out again. Afraid she would wake-up Preston I sat her in our closet for a little while before talking to her. My patience was very thin at this point! I got her out and was talking to her about what in the world was going on with her when Mike came home. He took over the cuddling and she instantly fell asleep. I hope most of it is because she is still recovering from being sick, but she had a rough time at Joy School yesterday too, so maybe it's a phase. Whatever it is I hope it ends soon!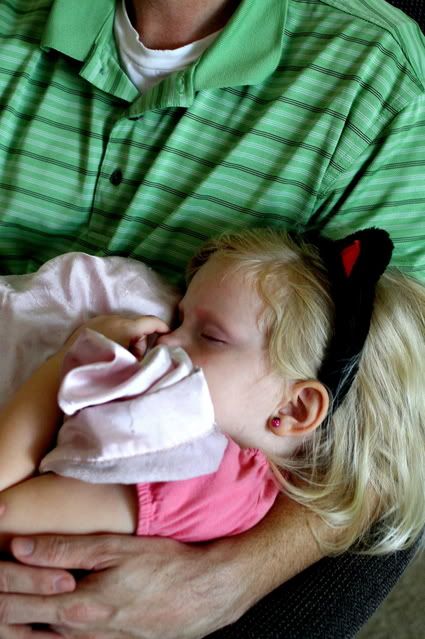 Adeline has moments of saying the sweetest, most genuinely kind things to people and then moments where she can't seem to resist the urge to push someone for no reason. I try to compliment her when she is making good choices and being nice, and then be firm, but not overly upset when she doesn't (which gets harder as the day goes on), but it doesn't seem to make much of a difference. All I know is I hope in a couple years she will be long over this stuff and we'll think back and say, "Remember when Addie would flip out about everything? She was so crazy!" and laugh :-). We'll see.
In the mean time, here are some things I love about our little Addie Cat that keep me going...her cat obsession (you really can't get too mad at a little white fluff haired girl who is constantly wearing cat ears), her desire to be nice to Preston (sometimes when Preston takes her things she says in a strained nice voice, "Oh, that's ok Preston, I need that!" I know she wants to do the right thing), her beautiful artwork, her random "I love you mom!", her cute laugh, her silly faces, her fierce independence, her blue eyes, her amazing imagination, the back scratches she requests each night, hearing her say "Play with me Ella?", enjoying a rare cuddle with her, and her great sense of humor.
I love you Addie...ALL the time!
(please don't do that at the store again though, ok?!)