This week has been Red Ribbon Week at Ella's school and each day there was a different theme to wear.
Monday - 'Wear Red'
(we don't have a lot of red in our wardrobes anyway, but I didn't remember until the last minute so we just switched out her skirt and hair bow for red really fast :-)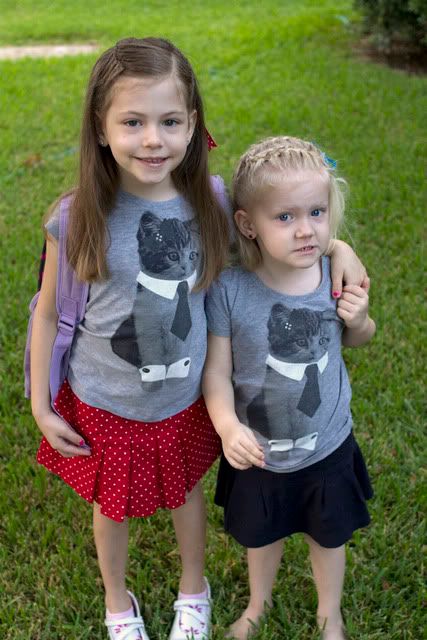 Tuesday was our favorite day - 'Mis-Match Day'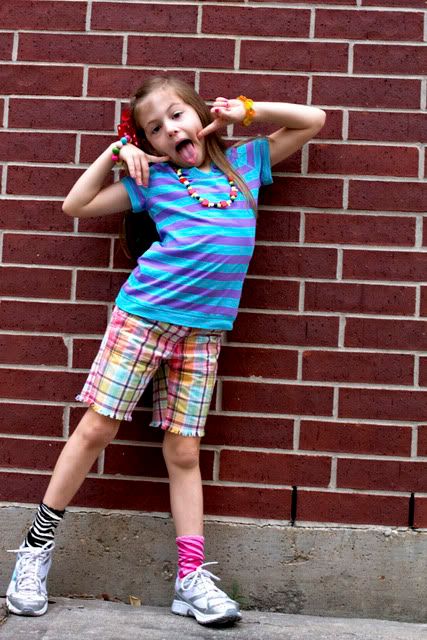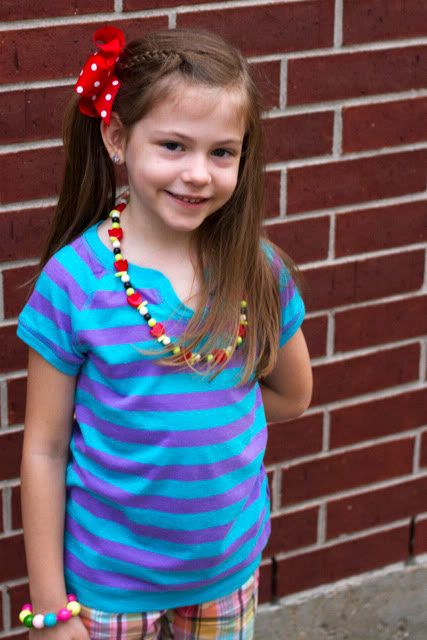 Ella also turned in her pumpkin library project to earn a new tag for her backpack. They had to decorate a pumpkin like a character from a story. Ella's current favorite author is
Tomie DePaola
and she chose Big Anthony from Strega Nona as her character. I was sad not to have the white pumpkin on our doorstep all week :-).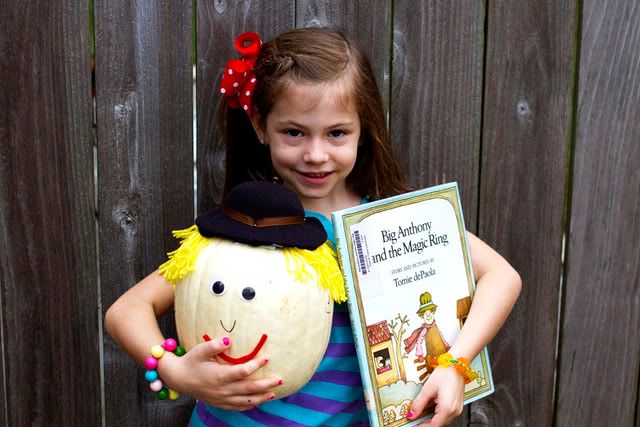 Wednesday - 'Cap Day'
I took this literally to mean a ball cap, but it turns out kids wore all kinds of hats, now we'll know for next year...Ella wasn't thrilled about wearing this one :-).
It's like I'm on a cooking show everyday when I make dinner...except my audience is a little distracting and loud and messy :-).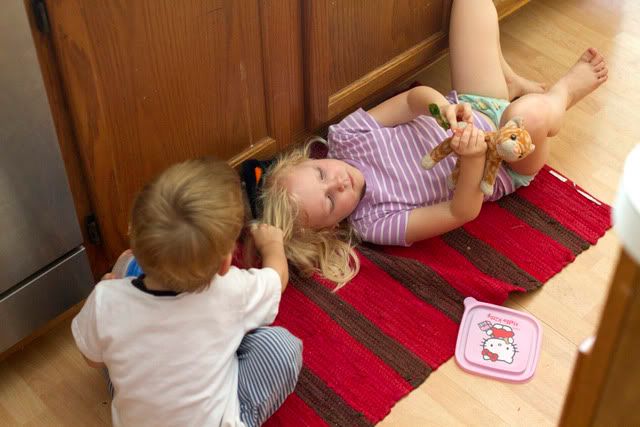 We headed over to Afternoon Art at the library afterwards and sick Preston stayed home with Mike, which meant I could actually focus on helping Ella make her cool ghost castle. Addie happily drew cats on scrap papers while we worked.
This was a cool project...It's an empty soda bottle with water in it and you get a big piece of paper to wrap around it and decorate it like a castle. Then you cut a window and a slit in the back of your castle to pass the little strip with ghosts on it through. When you see the ghosts threw the window they are all distorted because of the water. The girls LOVE it!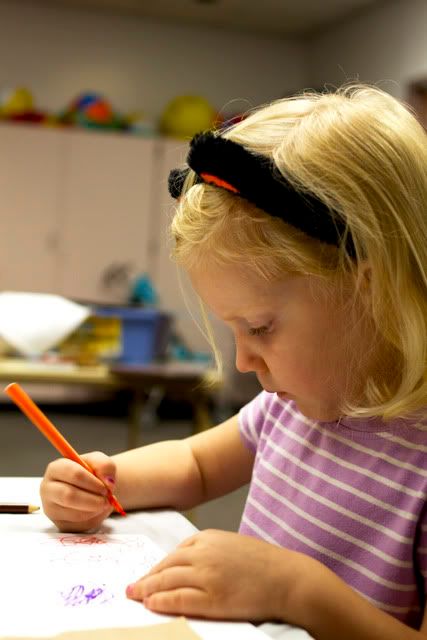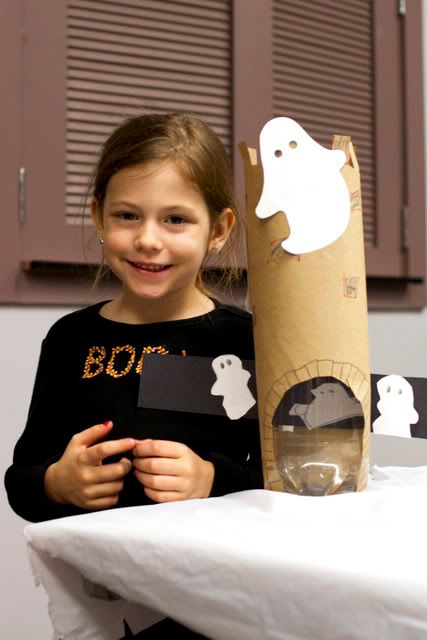 I didn't realize until that evening that Addie and I were twinners :-)!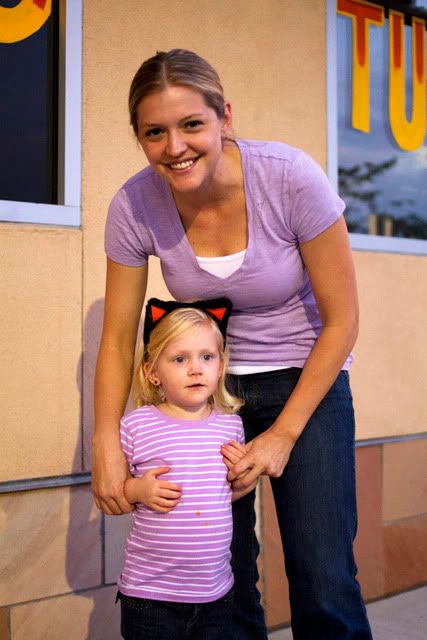 Thursday - 'Jersey Day'
Not very exciting for a 6 year old girl :-). She didn't want to wear one of her old soccer jerseys, so this little practice shirt is what we had.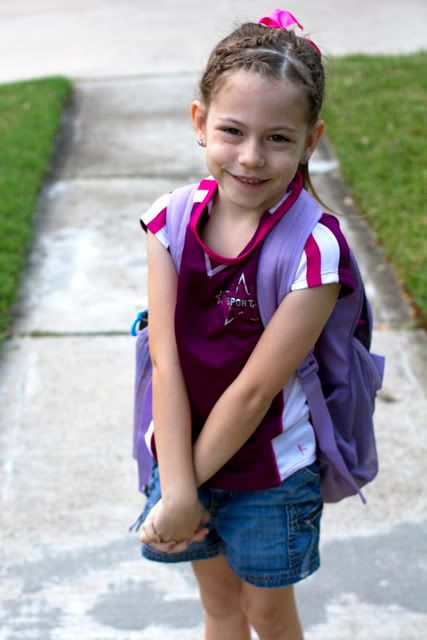 Friday - 'Dress Like a Friend Day'
Ella and her friend Megan dressed in matching shirts and I was planning to get a picture of them when I went to eat lunch at the school this afternoon. But things didn't go quite as planned, so I missed my chance :-(. Here is the gist of the email I sent to Mike when we got home...
So, I just got home with ALL 3 kids. Addie, Preston and I got to Ella's school pretty early for her lunch and Preston threw temper tantrums the ENTIRE time we were waiting in the hall outside the lunch room. Crying, throwing himself around, if I held him he would try to flip backwards out of my arms. In his defense, he was probably SO ready for his nap, he's been going down a lot earlier since he's been sick. Luckily Addie was being perfect! Finally Ella's class came and we went into the cafeteria where there were no more seats for the parents/kids to eat (they are doing it differently this year so we don't get to just sit at her normal table, all the moms/dads sit at a designated table in back with their kids). Preston is still crying and trying to throw himself out of my arms as we maneuver around the crowded cafeteria and finally get 3 chairs smooshed onto the end of the table. I thought once we started eating that Preston would relax, but he continued screaming and trying to get out of my arms. If I set him down on the ground he would throw himself onto the floor and writhe around. Then Ella started crying so I was trying to contain Preston and hug her and find out what was wrong while Addie ate happily away. Ella was still really upset about 2 friends hurting her feelings yesterday and although she said they were being nicer today, she couldn't stop crying so I asked her if she wanted me to take her home. She looked instantly relieved and we packed up right there. I gave Ella the Taco Bell bag with my lunch, Preston's beans and her other taco in it to hold while I tried to hold Preston and we went to throw away their water cups. But Ella accidentally threw away the bag too. I was going to grab it back out but some other kid had thrown an orange soda into the trash and it got all over our bag, so I didn't even get to eat my yummy lunch. The good news we are now home, the girls are watching Tom and Jerry, Preston is in his bed and I'm ready for some "me" time!
Sometime's it's hard to be a kid and it's really hard to be a parent and see your own kids go threw those rough things, so it was nice to be able to just save her from that moment this time.
Oh, and I'm really, really ready for my happy little Preston to be back to normal!