I can't believe Preston is 18 months old!
Part of me is so excited to have him becoming more of a big kid
(to make my life easier)
and the other part of me is so sad to see my last little baby grow up
(yes, I'm 99% sure he's it now!)
.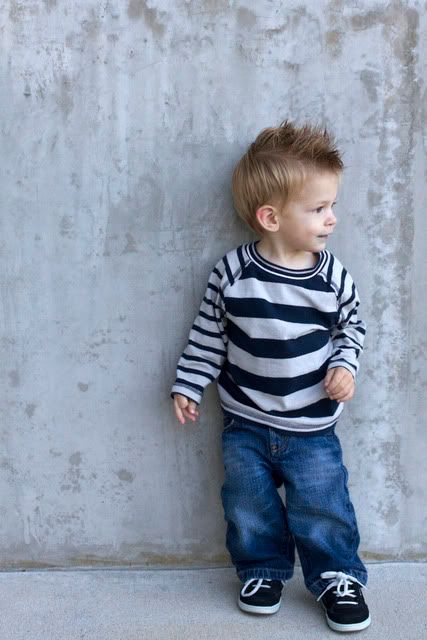 Although he's been quite a grump the past week after being sick, he is typically just happy and laughing as he runs around ALL day long. Preston is definitely a free spirit who has his own ideas about what he wants and how things should be. I love his little independent personality and although it can be tough on me right now, I know it will serve him well as he grows up. Preston still only has 6 teeth - 4 on top and 2 on bottom - and hopefully is getting more soon. He continues to be a light sleeper but does take a nice 3 hour nap in the afternoon and sleeps from about 7:30pm-6:30am on good days, 6am
(or even 5:30am since the time change- bummer!)
on bad ones.
He loves his blankie more than anything in the whole world. He also loves cars, trucks and trains. As we drive he points out cars, tractors
(any yellow machine)
, trucks, garbage trucks, and fire trucks...and choo choo trains in books. When he sees something with cars on it in the store he freaks out, but he is still easily distracted :-). He is talking up a storm now and has forgotten about signing, although he will bring me the Signing Time DVDs and say "signing, signing" when he wants to watch one.
(he only watches about 10 minutes before he leaves and plays with something else)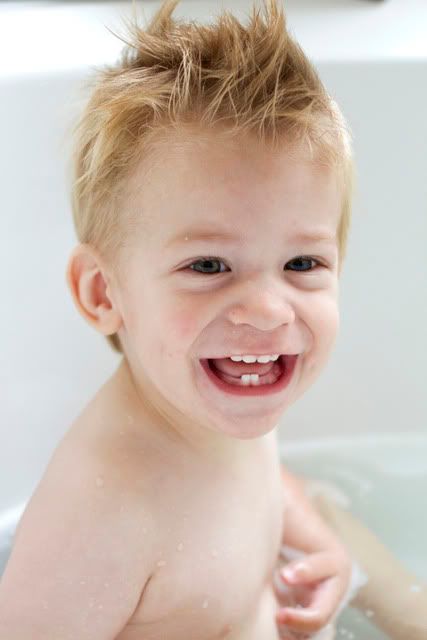 Preston also loves baths, splashing in puddles, dumping out boxes, emptying book shelves, coloring on/in things he shouldn't, running full speed 24/7, treats and chips, waffles for breakfast, all animals, finding the moon and stars in the sky at night, singing and dancing, being outside, trying on other people's shoes and driving his sisters crazy.
He does not like eating (STILL!), being confined/sitting still, sleeping, cotton candy
(I tried to give him some today and he spit it out and acted like I was trying to make him eat a bug)
, the game at HEB grocery store
(it scares him to death)
, or cleaning up.
I've had a rough couple days with Preston, but I still love him with all my heart. He has a wonderful sense of humor and I really do love his craziness! Good luck in nursery :-)!