Since Christmas we have been taking it easy around here. We've been enjoying having Mike home for one more week, playing in the backyard, watching movies, packing up Christmas and trying to keep the house picked up. I've been trying to get us back on track for the new year with more healthy food choices and I've been hitting the gym again. I've also been catching up on my pictures and blogging
(this post means I'm all caught up!)
and today started working on the 2nd half of our 2009 Blurb book. It feels great to be getting things done, having fun together and getting back into a healthy routine again
(I have had a hard time doing this consistently since Preston was born, but now that he is 1 1/2 years old I think it's about time :-)!)
. It also has been SOOO nice to not have places to be or things that have to be done at a certain time. The freedom has definitely been welcome!
Here's to a
Happy New Year
!
The house definitely looks empty and plain initially when the holiday decor comes down. Saying goodbye to the Christmas card wall is always my least favorite part. I love it that we actually get real mail during the holidays!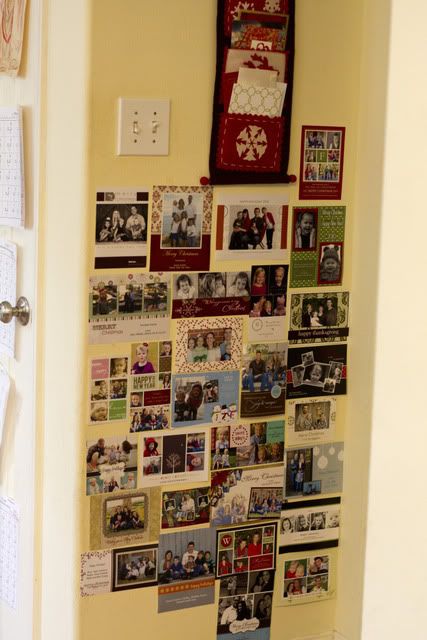 Monday night Mike and I headed out for a date night and today we were kid free again while all 3 played at my friend Emily's house. It is amazing how quiet the house seems or how calm a shopping trip to Sam's club is when there aren't kids around! Of course, it gets boring pretty quickly too :-).