Last week flew by in a blur for me. It was just me and the kids and although we were productive and still had some fun with Mike gone, we were definitely all SO ready for him to be home. One afternoon Addie told me, "Mom, let's just go pick Dad up!" They enjoyed filling him in on our progress with the kittens and our Christmas decorating over the phone each night though.
Sunday night Ella and I worked on a little family tradition project for school. We were given this square to decorate and they are making a quilt out of all the squares on the wall outside their classroom. Of course, it was more of a project for the parents to do, but she had fun gluing the pictures and was excited to take it to school the next day.
The weather on Monday was super warm and with a cold front forecasted to come through that night I was determined to get our outside lights up while I could still do it in shorts and a T-shirt!
Oh, how I love Houston :-)
. We went on a walk later that night to admire the Christmas lights in our neighborhood. Whenever Preston sees lights or Christmas decorations he yells, "Christmas!!!" I also put the kids' Christmas Eve presents under the tree that night and the next morning Addie ran in exclaiming, "Santa brought us presents!" She continues to ask me
every
morning if they can open their presents.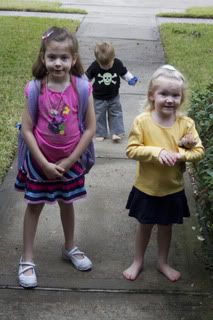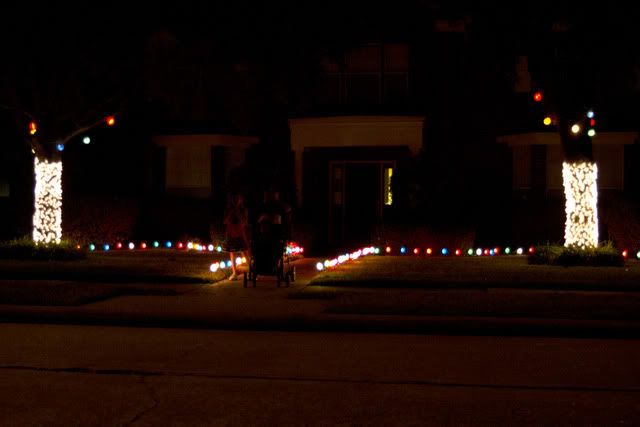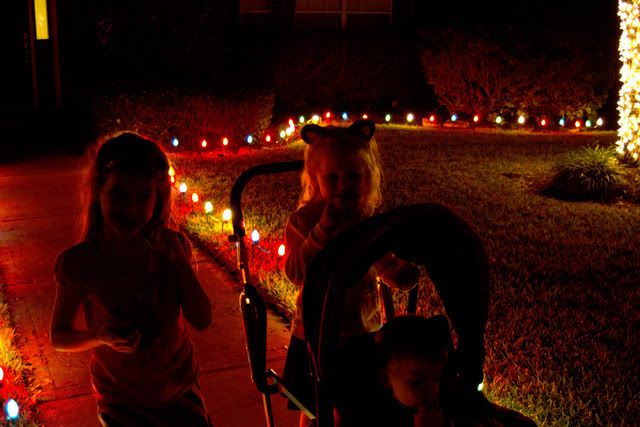 This is what I found later that night...
(Beauty is not posed, but Tom is :-)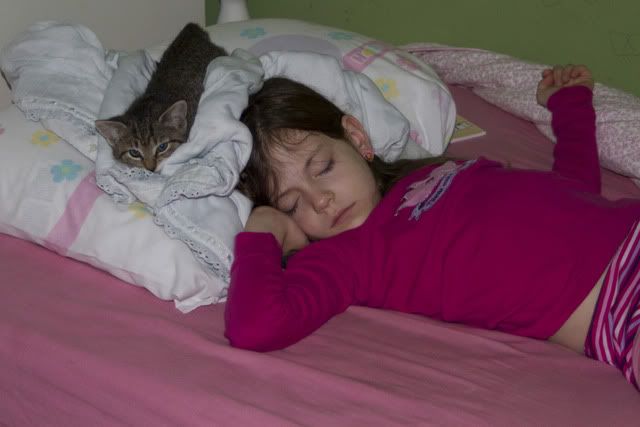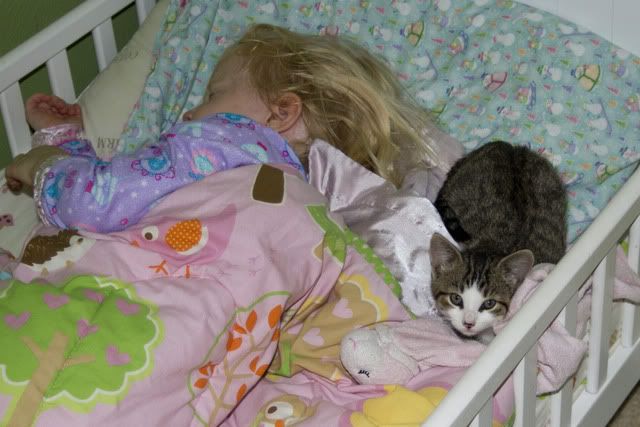 Tuesday and Wednesday were cold!
Tuesday Preston and I finally made it back to the library for his storytime and Wednesday afternoon we went back with the girls to check out books. Ella and Addie were SO excited to tell all our librarian friends about their new kittens!
On Tuesday afternoon Addie's friend came to play for a little while too. Brooklynn almost always says she doesn't want to come to our house when I invite her, but she couldn't say no after seeing the pictures of the kittens :-). When her mom came over later they brought the kittens a birthday present and my girls thought that was a great idea!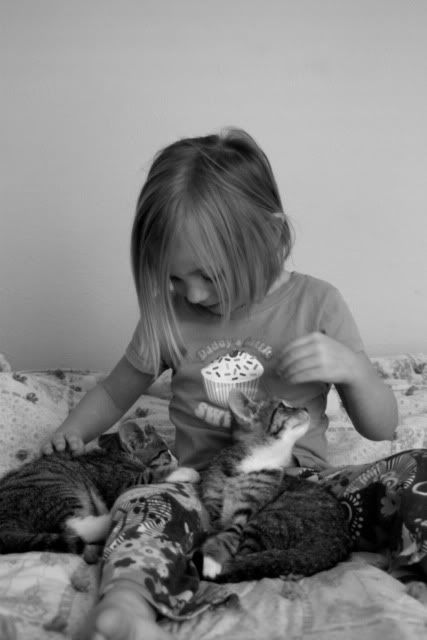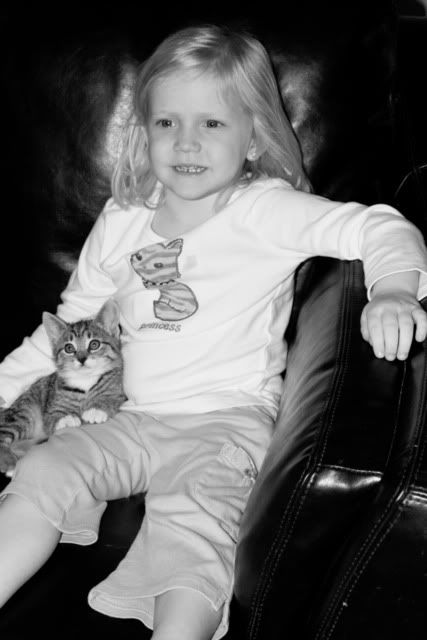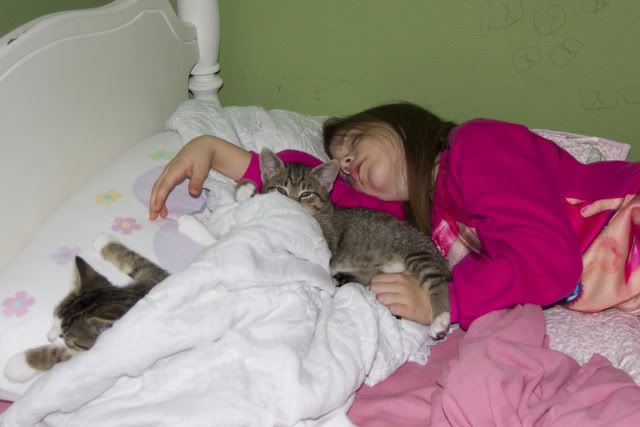 Wednesday night was our ward's Young Women in Excellence program. I really needed to be there but all my usual babysitters were busy...it was also my parent's ward YW program, and of course all the YW were at the church too. Luckily, my sweet friend Katie was able to watch all three of my kids even though it was way past their bedtime. They thought it was awesome to stay up so late and play at Ellie's house!
We had a movie premiere theme for our program and watched a super cute movie about the personal progress program one of the leaders made interviewing all the moms about their daughters (and the value that they see the most in her). She had edited it all together so well and gave each of the girls a copy today. Mckell and her mom did all the decorating and food and it was super cute and super yummy. I was supposed to take pictures of the girls and their moms on the red carpet and was really sad that I didn't have my better lens to do it with. It worked out fine and the good news is that my new one arrived Friday afternoon...so after this post, it's back to better pictures again! Here are some pictures from our evening.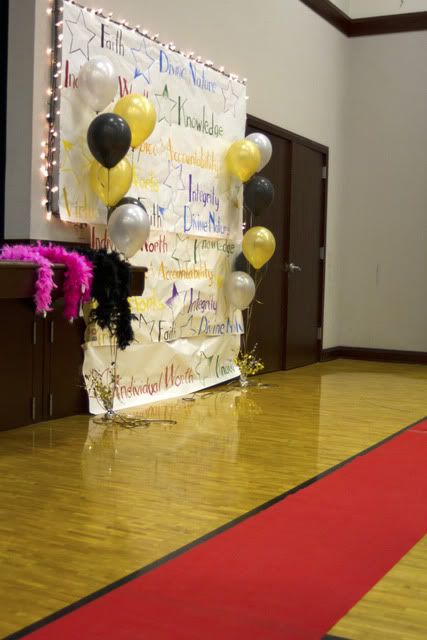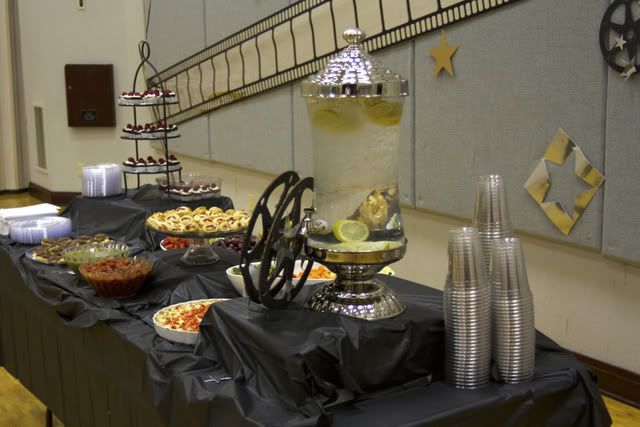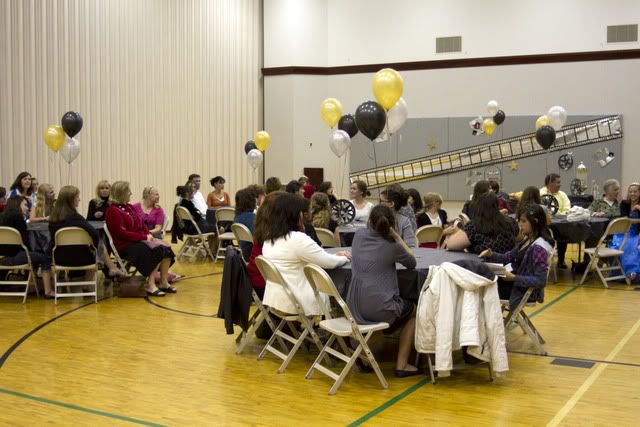 And pics of some of my Laurels.
| | |
| --- | --- |
| | |
By Thursday I was really starting to feel tired. I stay up way too late trying to get things done when Mike is gone. I just always feel like there is so much more to do than I have time for and he is good at helping me feel like if the house is a little messy, who cares! When it was just me I couldn't handle it and did not get enough sleep as a result :-). Thursday afternoon was so fun though! Addie was at school and my friend Emily offered to watch Preston for me so I was able to go have lunch with Ella at school, just me and her. She LOVED that I could just focus on her without worrying about Preston and Addie being crazy. It was definitely a fun treat for us both! That night my mom came to watch the kids so I could go to my monthly book club meeting. I have been a faithful member of this bookclub for a long time now and I really enjoy getting together with all the ladies. Most of them are much older than me and I think they have all taught me so much...not to mention it keeps me reading during this busy time of life where I probably wouldn't otherwise.
| | |
| --- | --- |
| | |
Friday morning Mike arrived home right as we were all getting up for the day! Hooray! We were so excited to see him, even if he did have to go right to bed :-). I went to help at Ella's school for her little science experiments
(Mad Lab)
and my Grandma came to watch the kids...and Katie picked up Addie and took her to dance for me.
So, I learned this week that there is no way I can do everything on my own!
Thank goodness for friends and family to help me out until Mike got home!!!